Chicken Alfredo in a Bread Bowl
I was looking for something fun to do over the weekend with my girlfriend, and we decided we would try out a few recipes. The specific ones are:
Chicken Alfredo
4 slices bacon (We got a pound and ate a few, used the rest)
1 3⁄4 lbs boneless skinless chicken breasts (about 3)
3⁄4 teaspoon pepper (estimated)
1⁄2 teaspoon salt (estimated)
2 tablespoons chicken broth (we used a bit more for more sauce)
3⁄4 cup onion, chopped
5 garlic cloves, minced (we used a garlic press)
2 cups heavy whipping cream
1 1⁄2 cups parmesan cheese (we just guessed and shook it in)
3 tablespoons parsley, freshly chopped (apparently that's expensive)
16 ounces fettuccine pasta (we used penne instead)
2 (.25 ounce) packages active dry yeast
2 1/2 cups warm water
2 teaspoons salt (estimated)
2 tablespoons vegetable oil
7 cups all-purpose flour
1 tablespoon cornmeal (apparently it expired 6 years ago… Skipped that)
1 egg white
1 tablespoon water
These recipes were mostly just Googled, and we picked a few that seemed to be the most delicious looking.
Notes:
We used more bacon than it suggested, because who doesn't like lots of bacon!
The cornmeal we had was expired…. 6 years ago…. so we skipped that. Turned out fine.
A few other spices were thrown in later.
Alright, let's get started!
After a brief trip to the store, we end up with a few bags of ingredients, and are ready to begin.
We started with the bread recipe, since obviously you bake bread, and that takes a lot of time.
This involved adding a bunch of ingredients together, and mixing it a ton.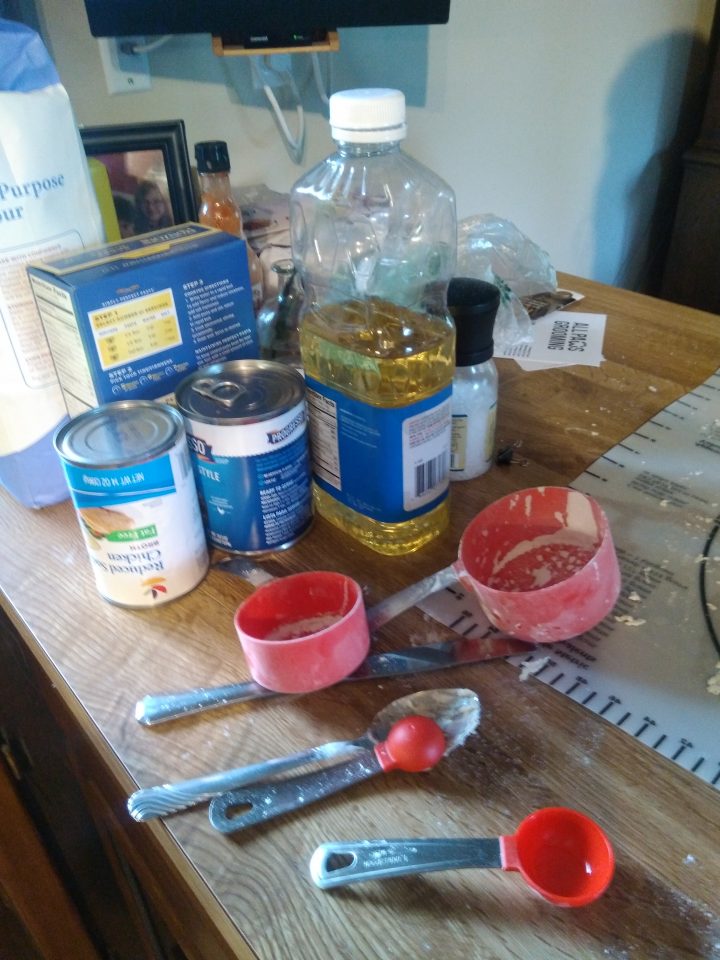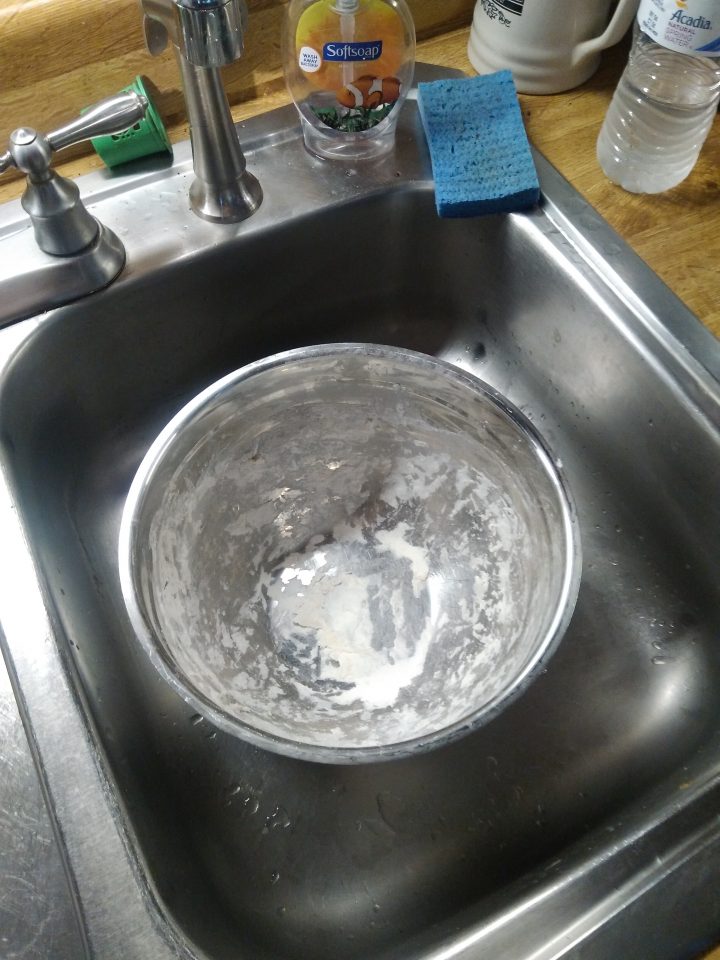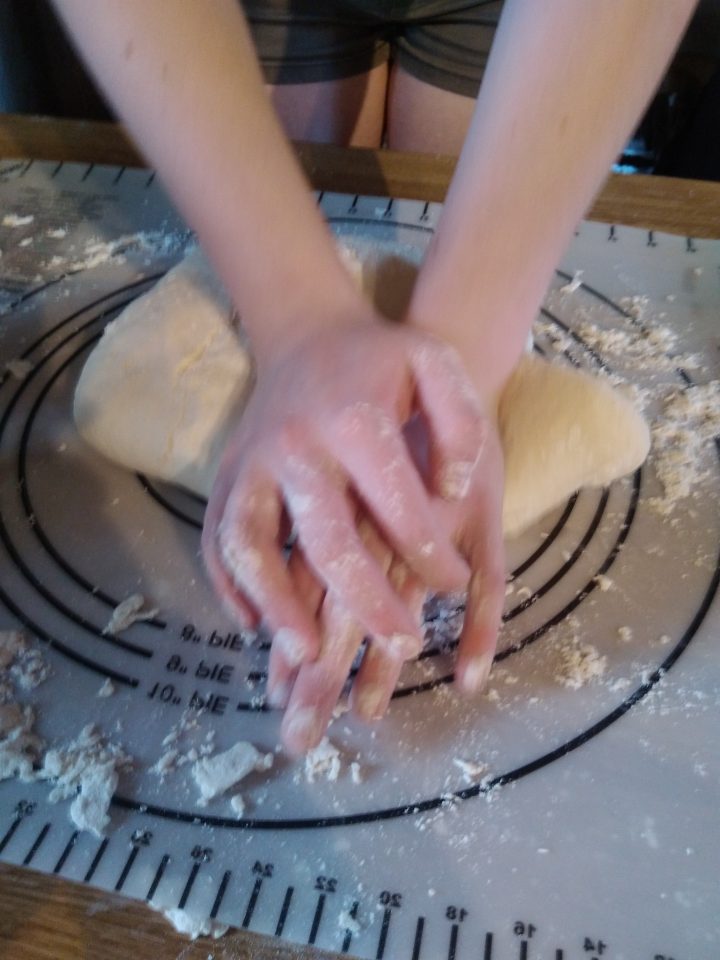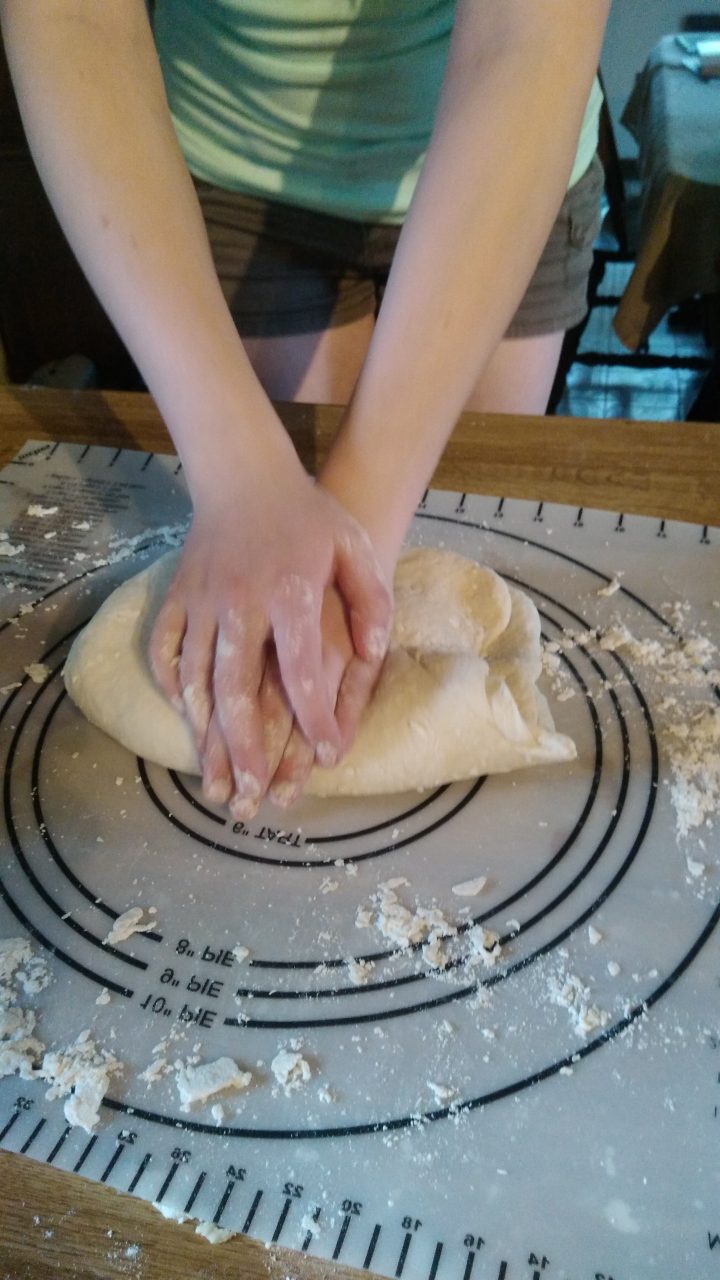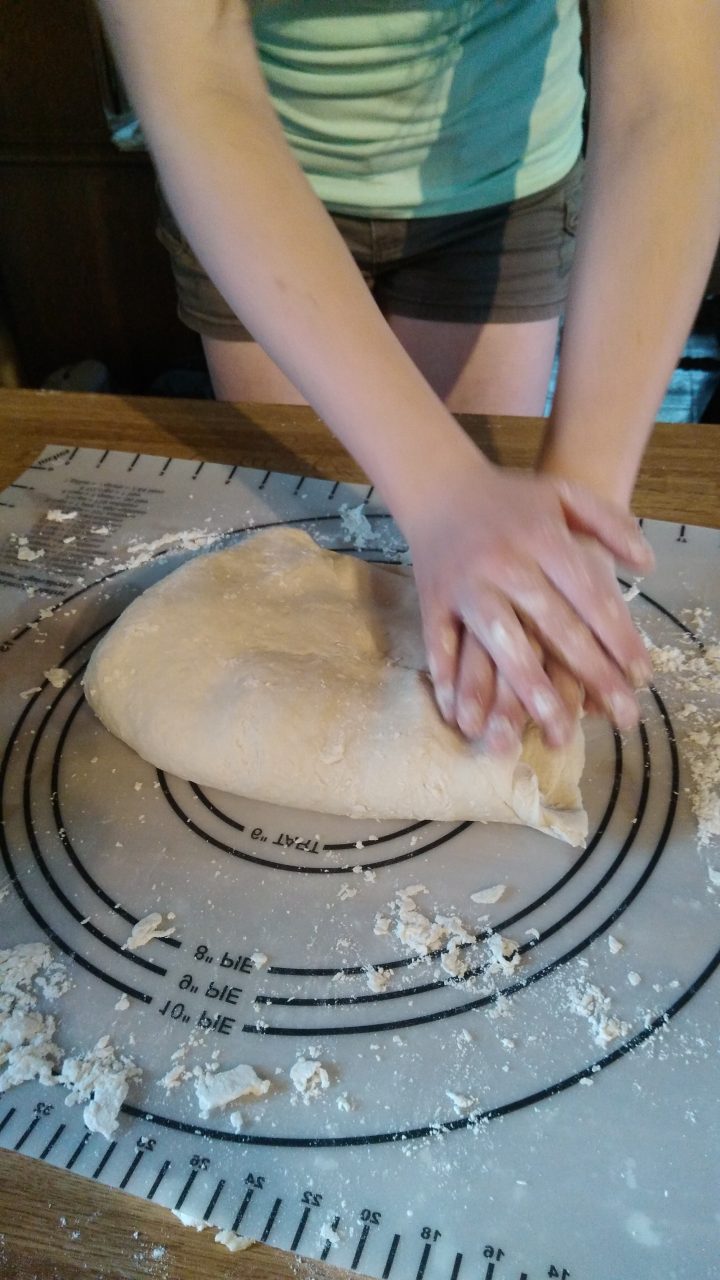 Okay well I tried really hard to align this to the center, but couldn't… Oh well.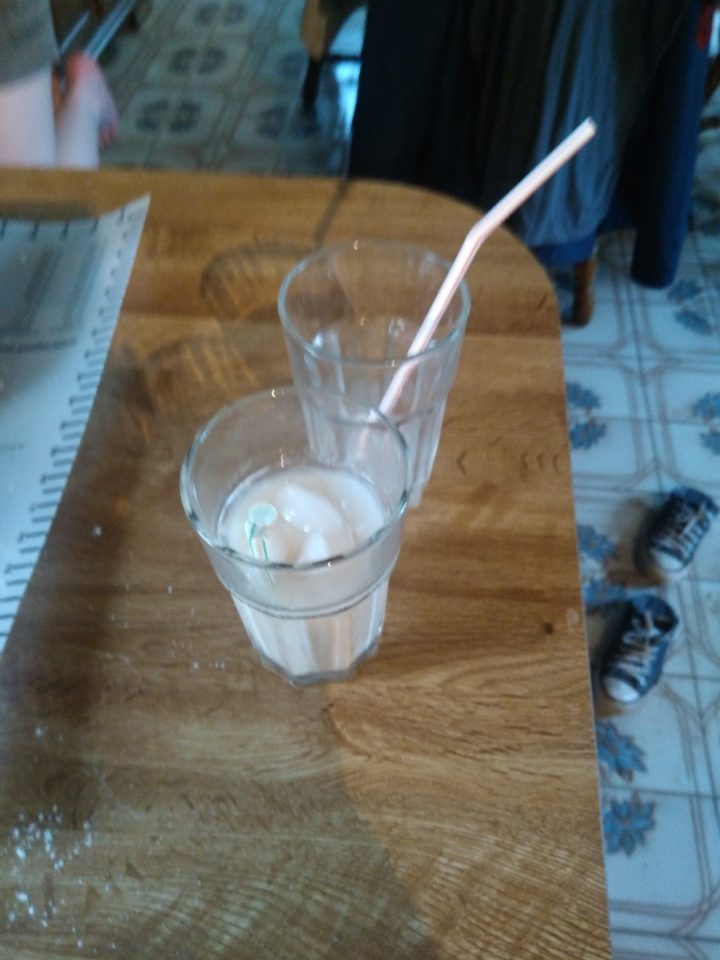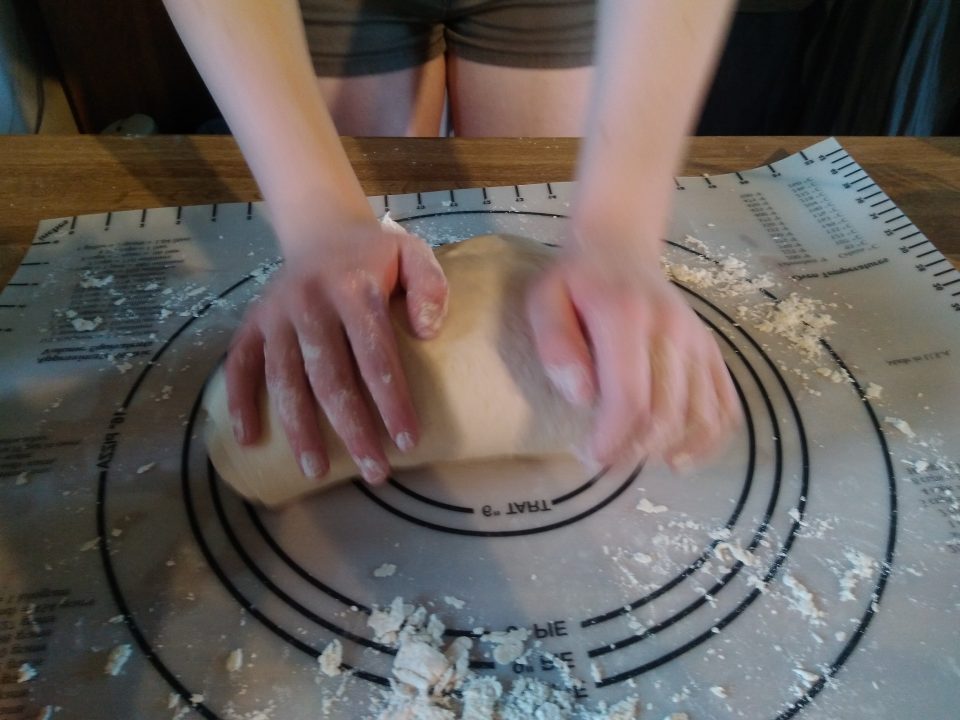 This is one of the techniques we saw. Still can't center align. Oh well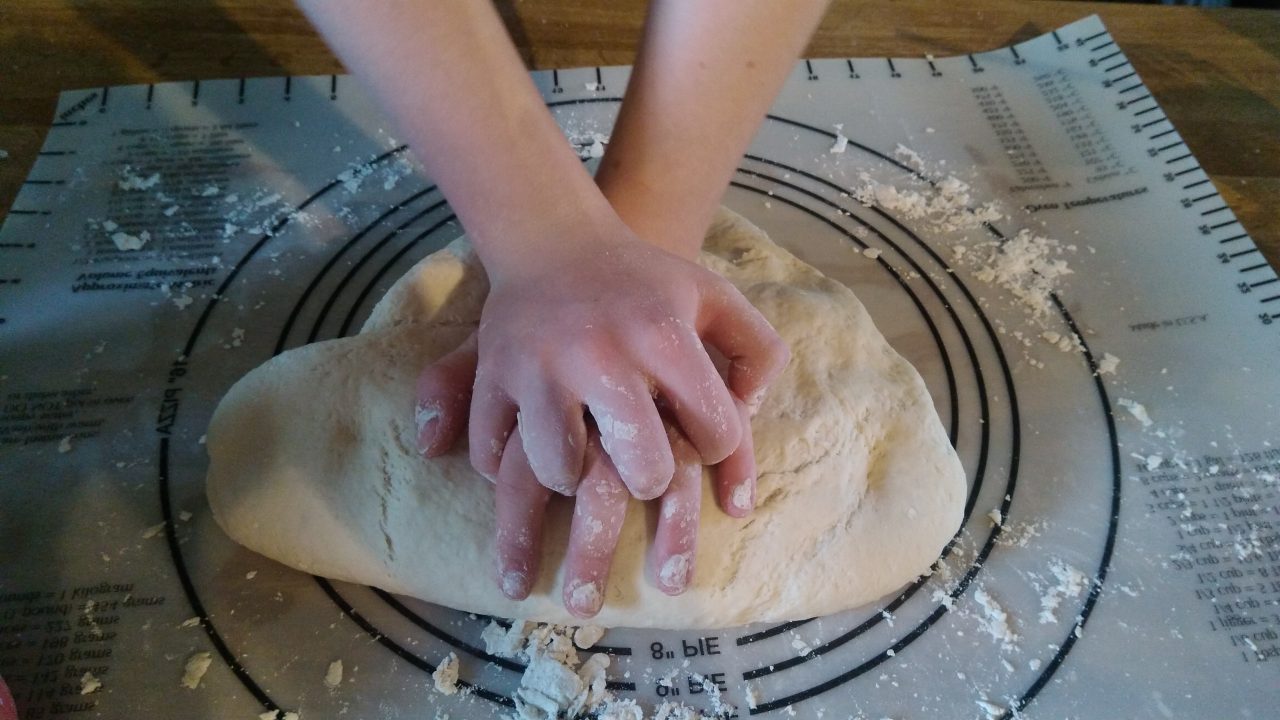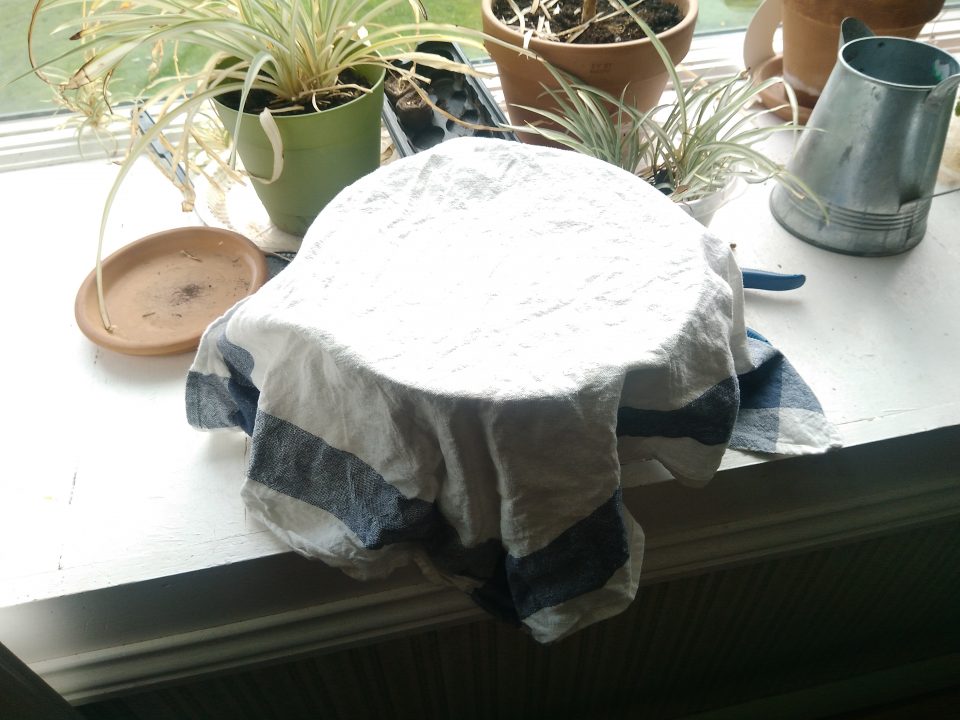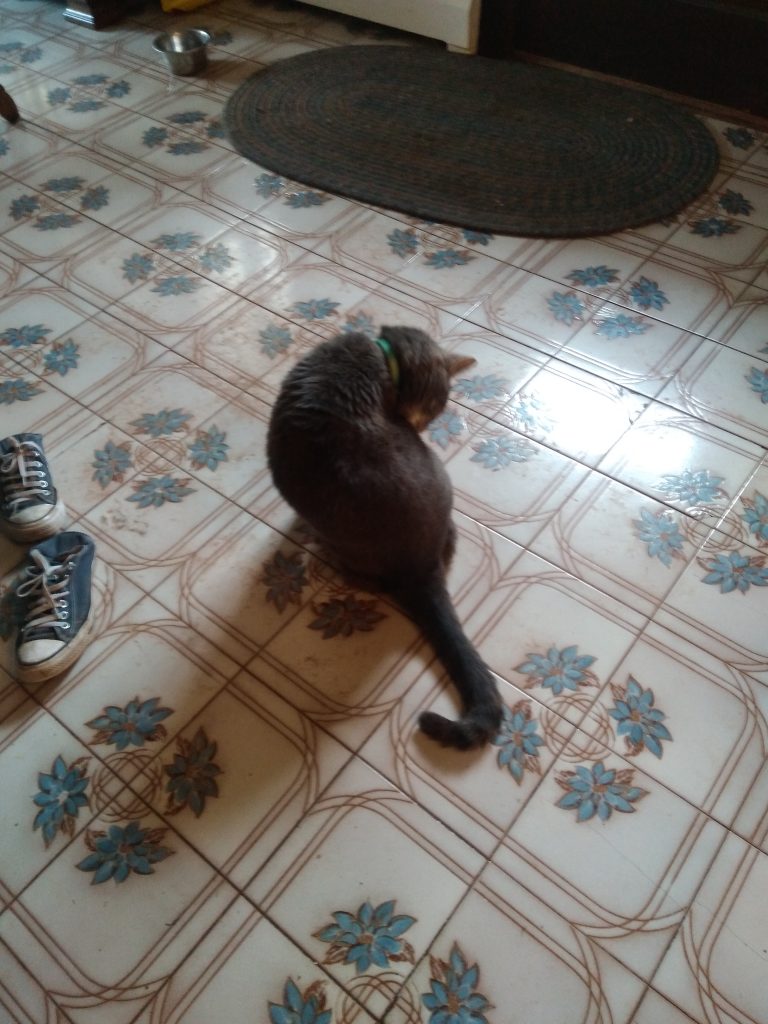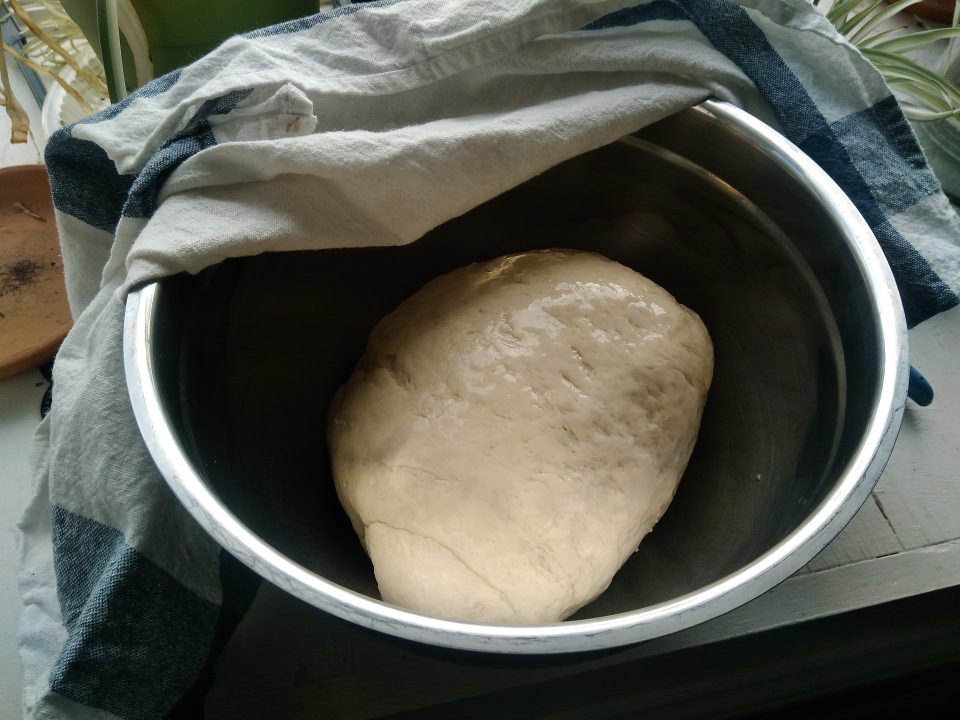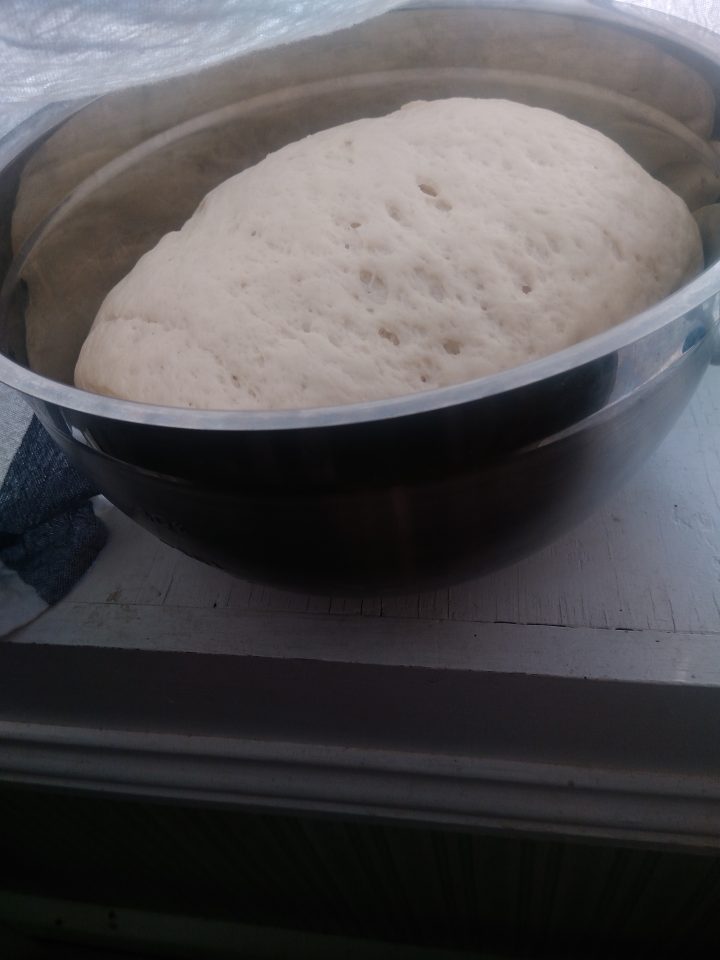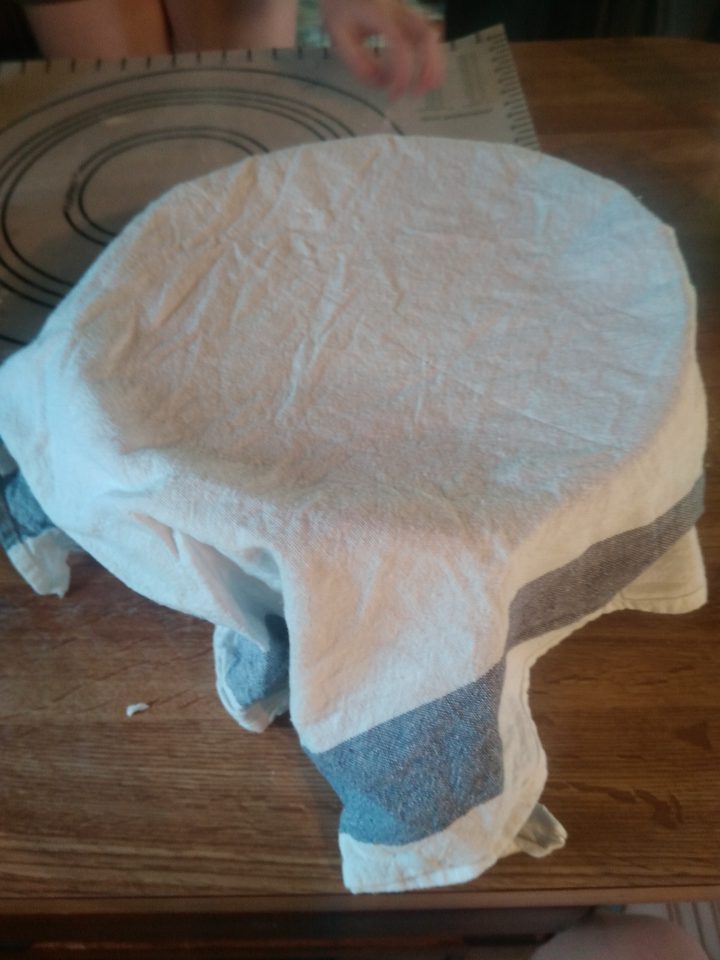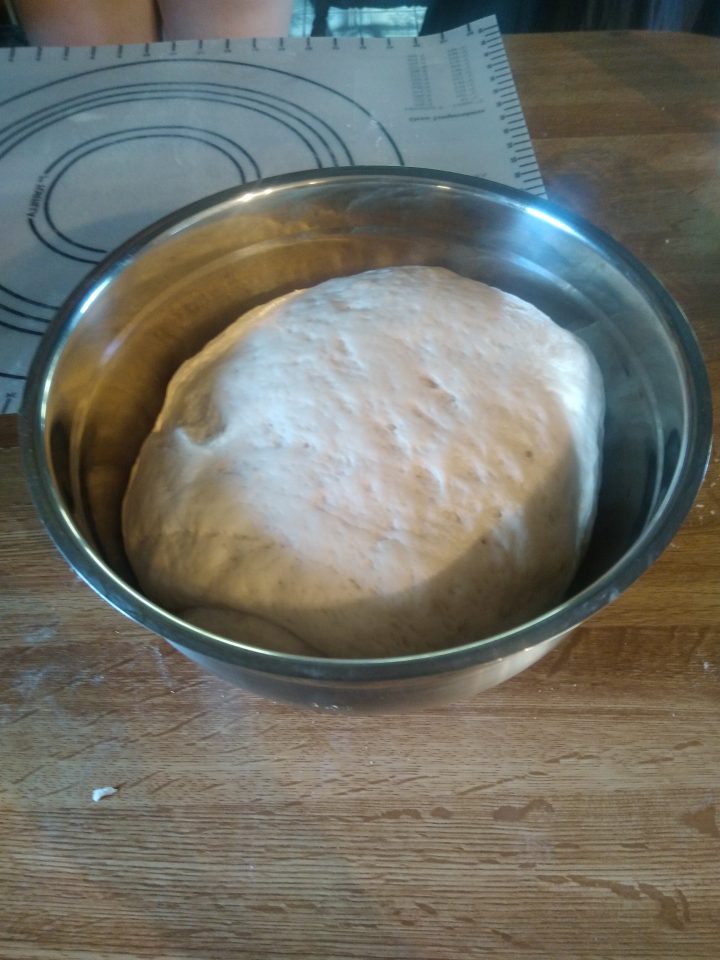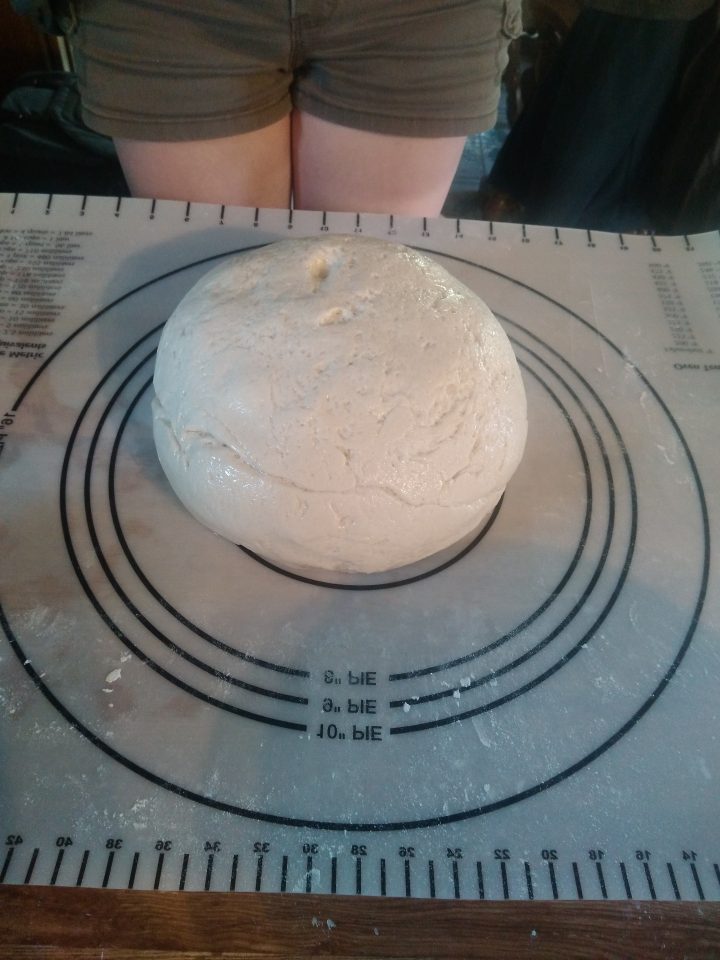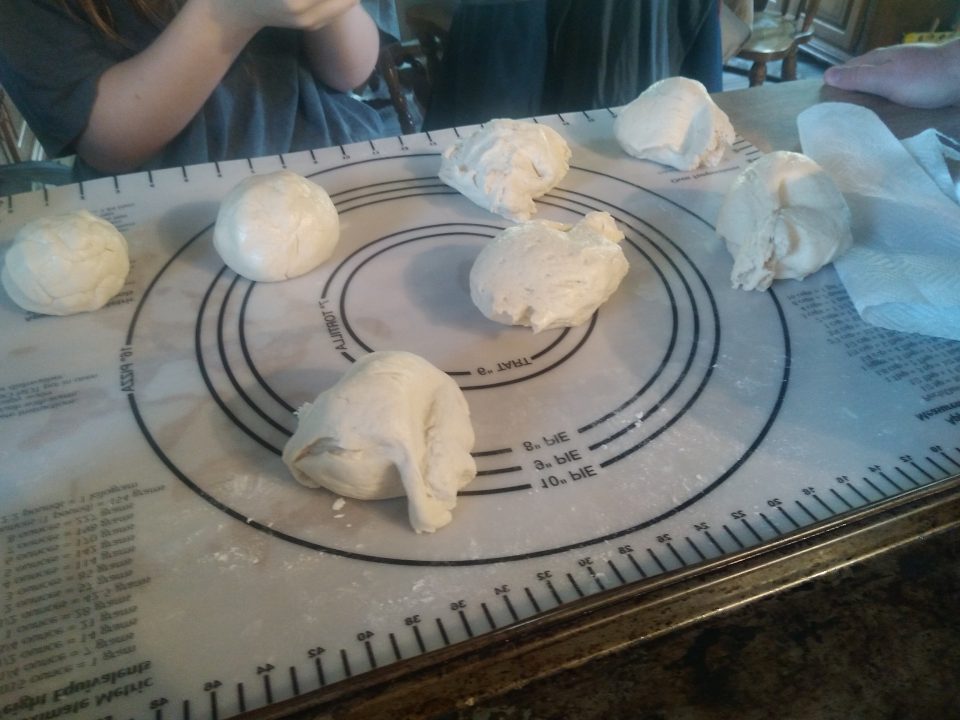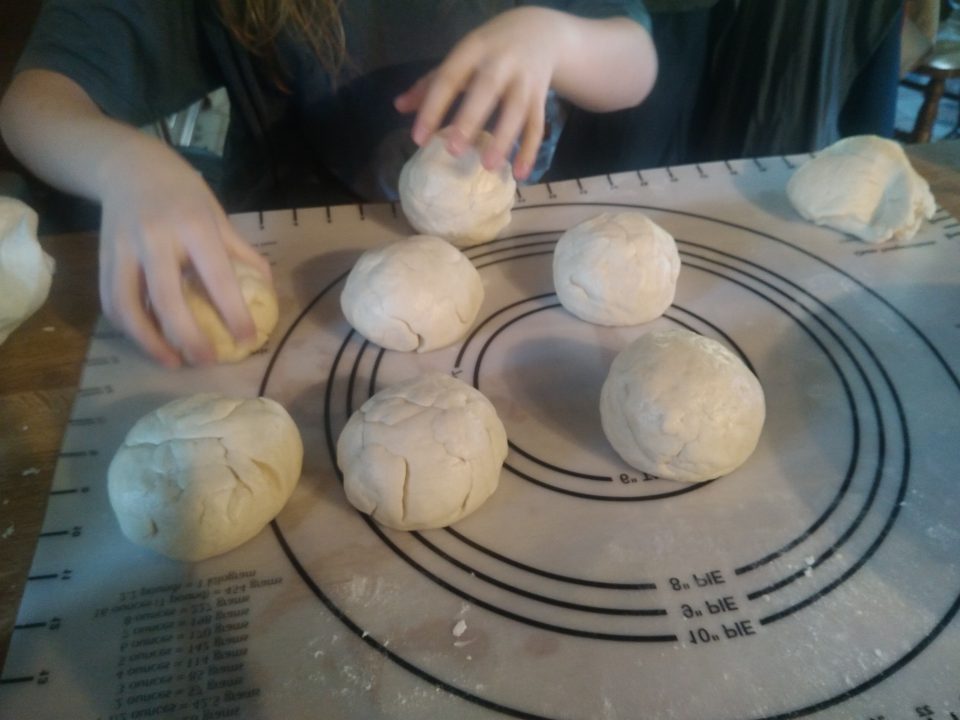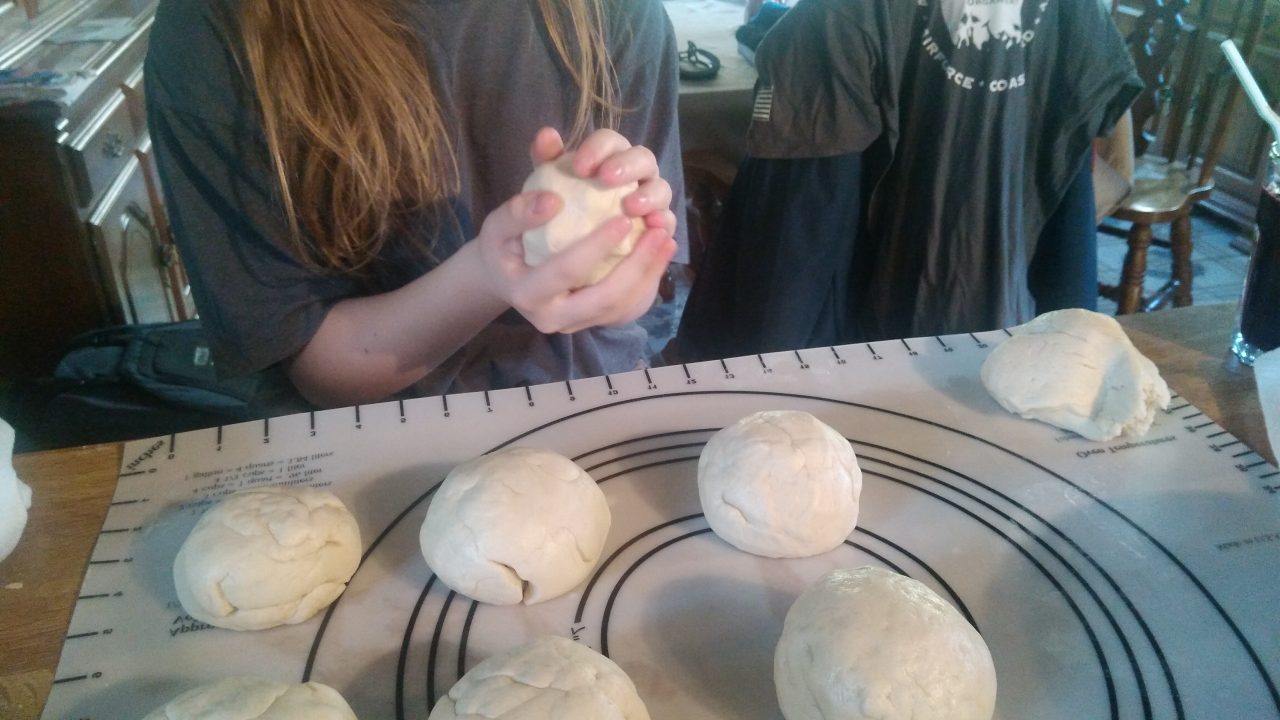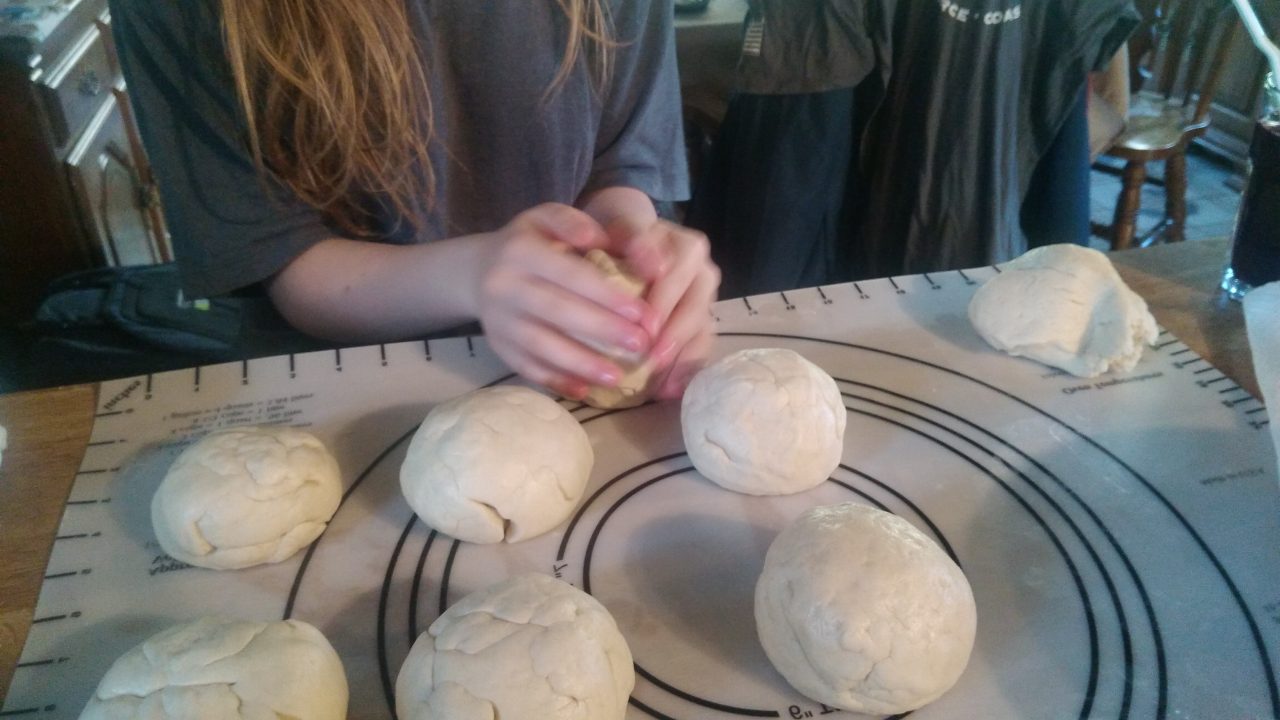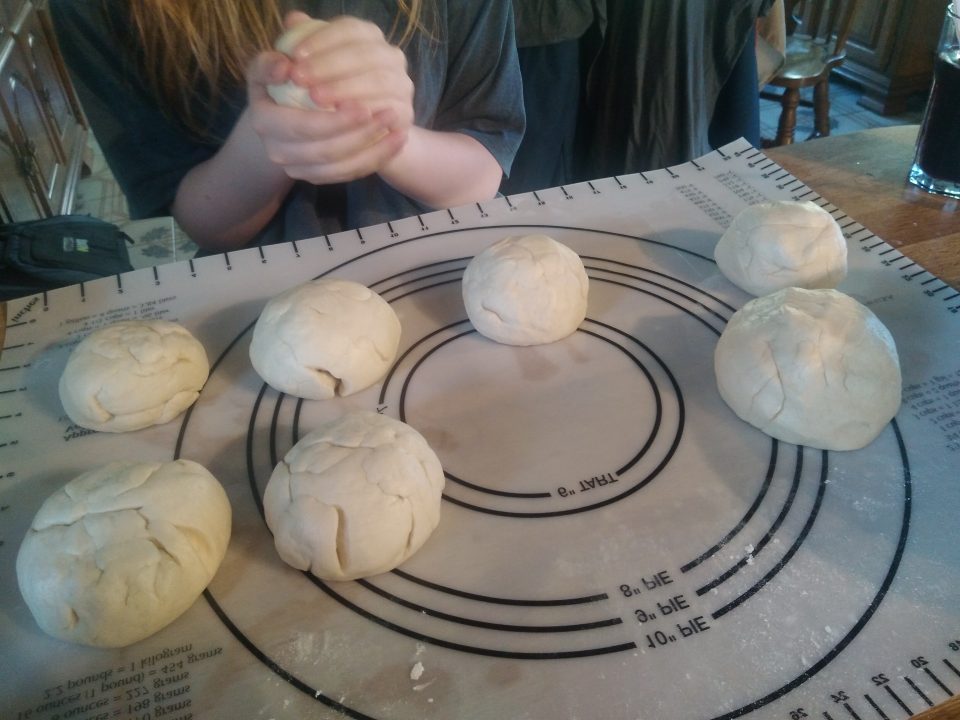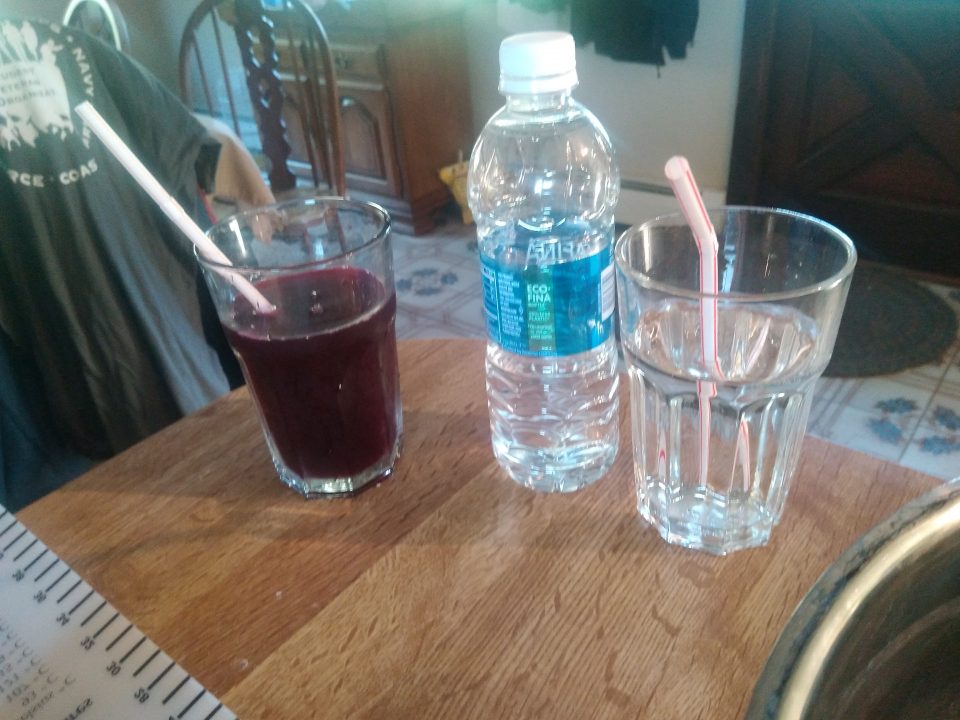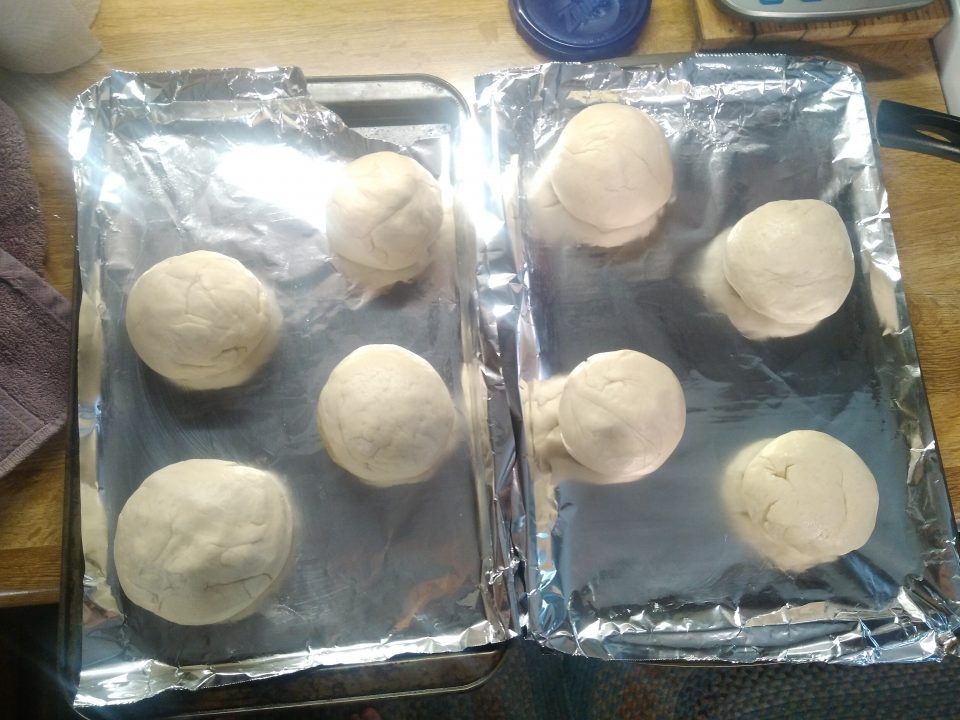 Alright time to stick these on the pan to rise again!
These pans though, they're missing something.
Cornmeal is supposed to be sprinkled on the bottom to give it some more texture and flavor, but….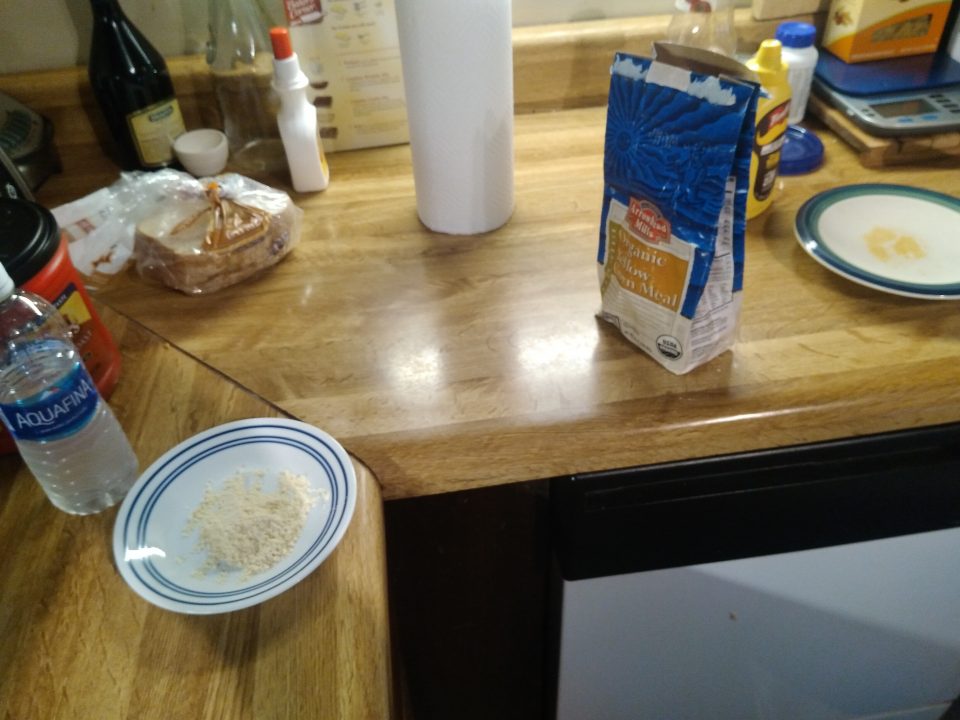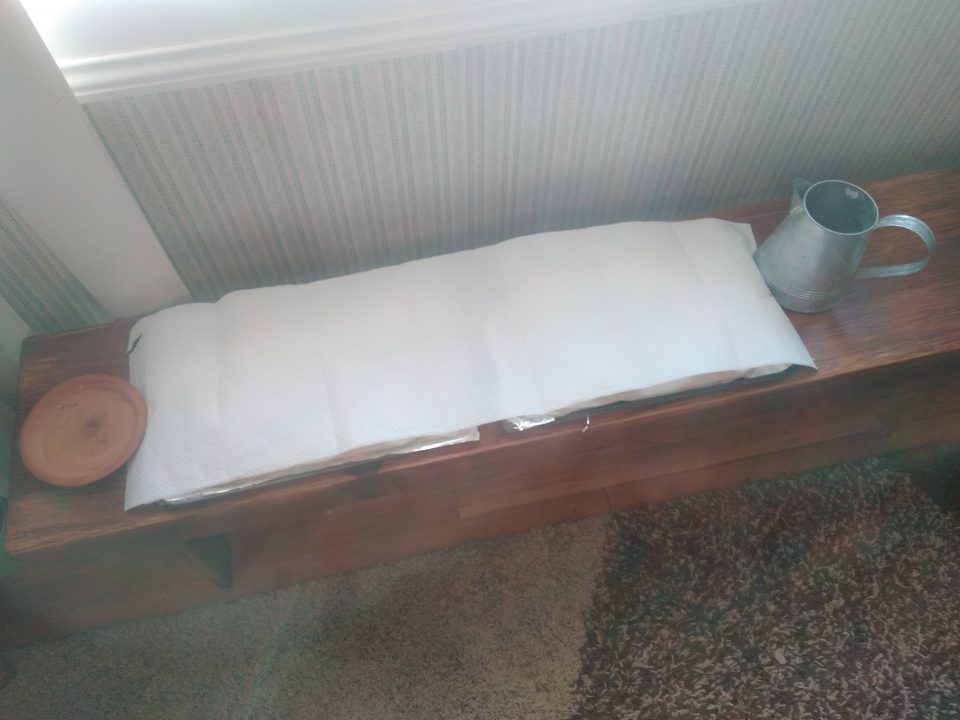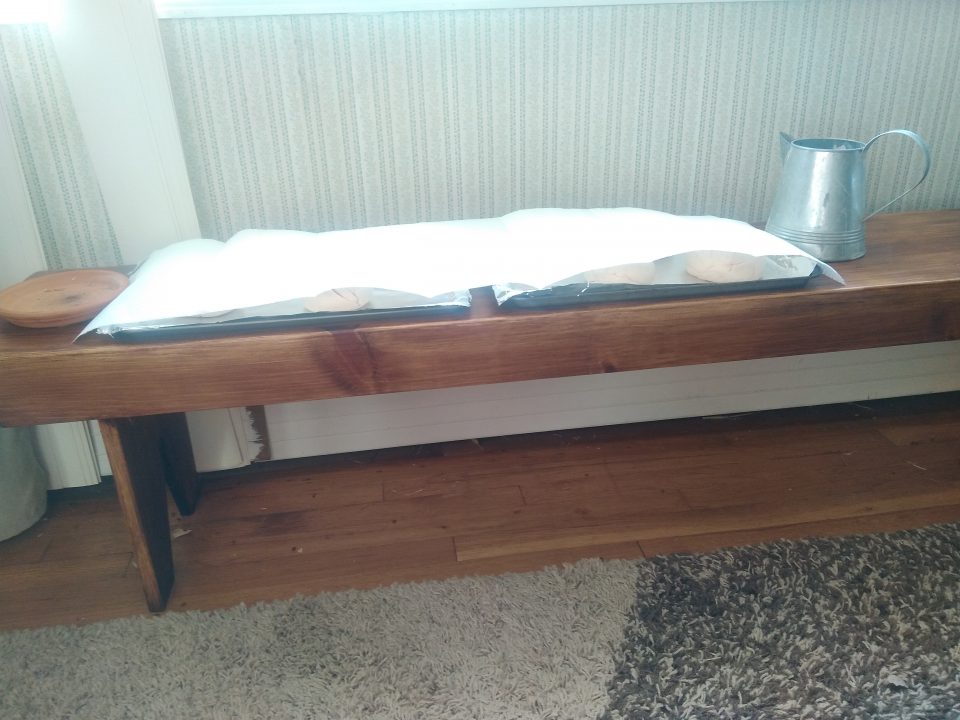 Alright it's time to actually get going on the chicken alfredo! (Finally – this is after like 2 hours)
Firstly, bacon!
This was just a randomly picked pack. Looked good enough. ¯\_(ツ)_/¯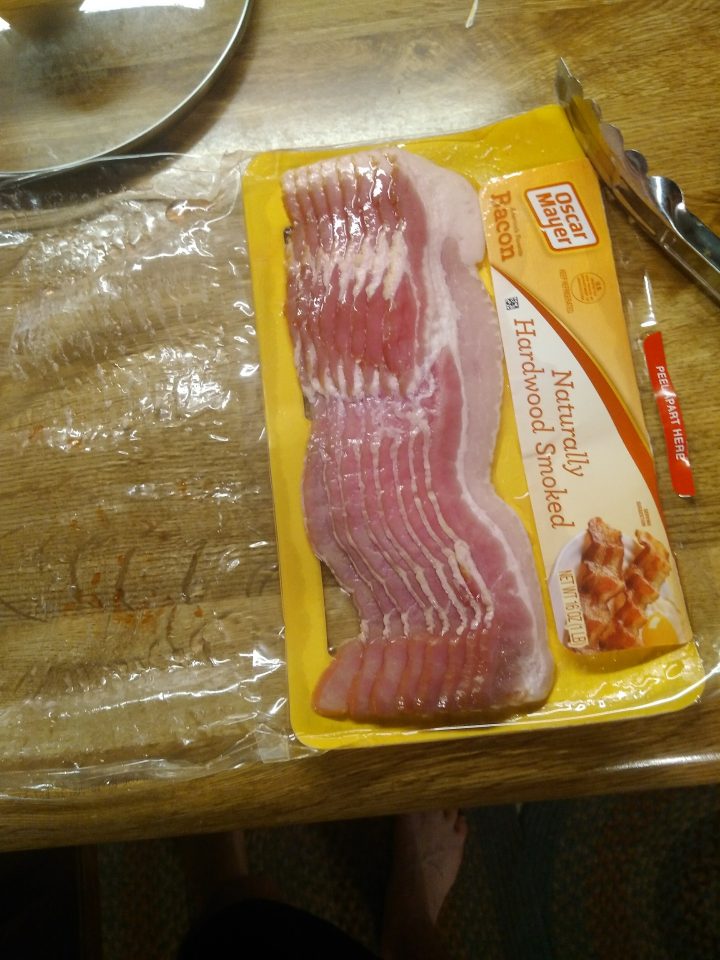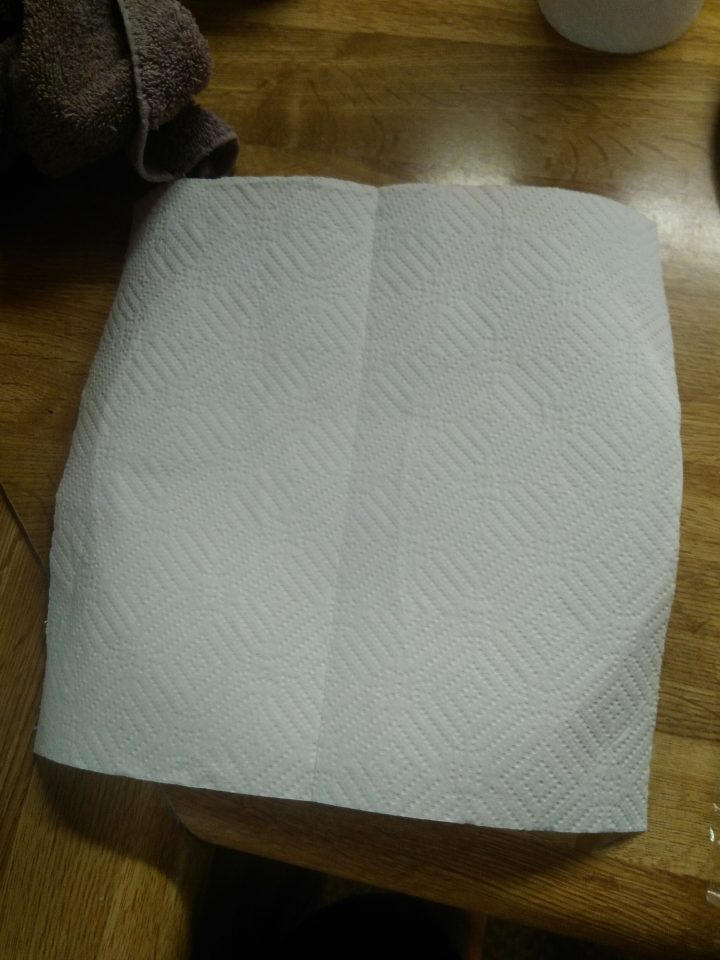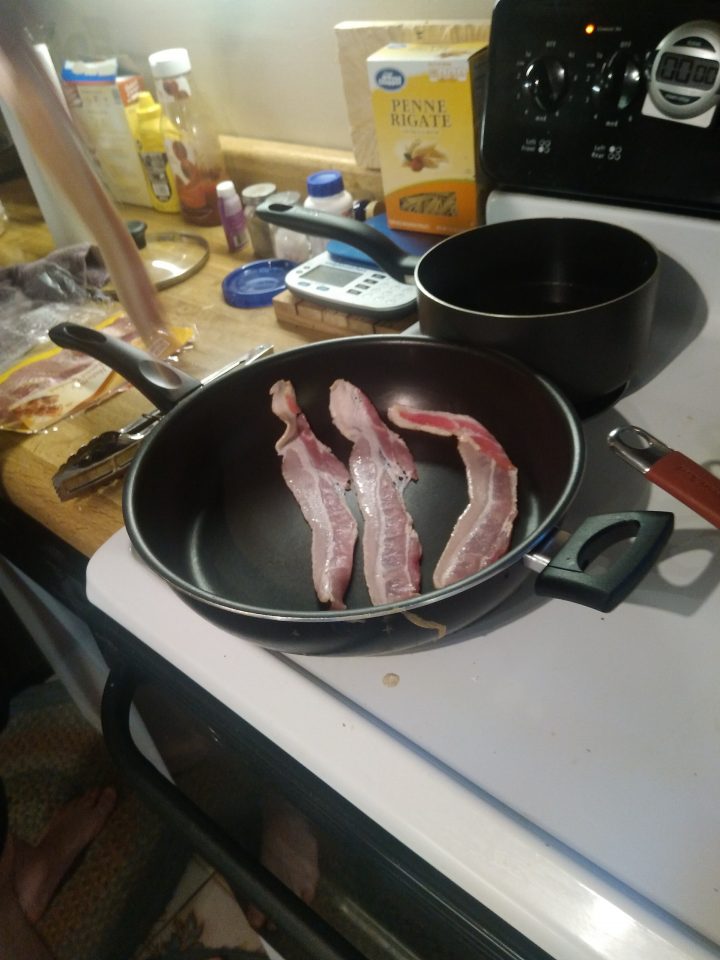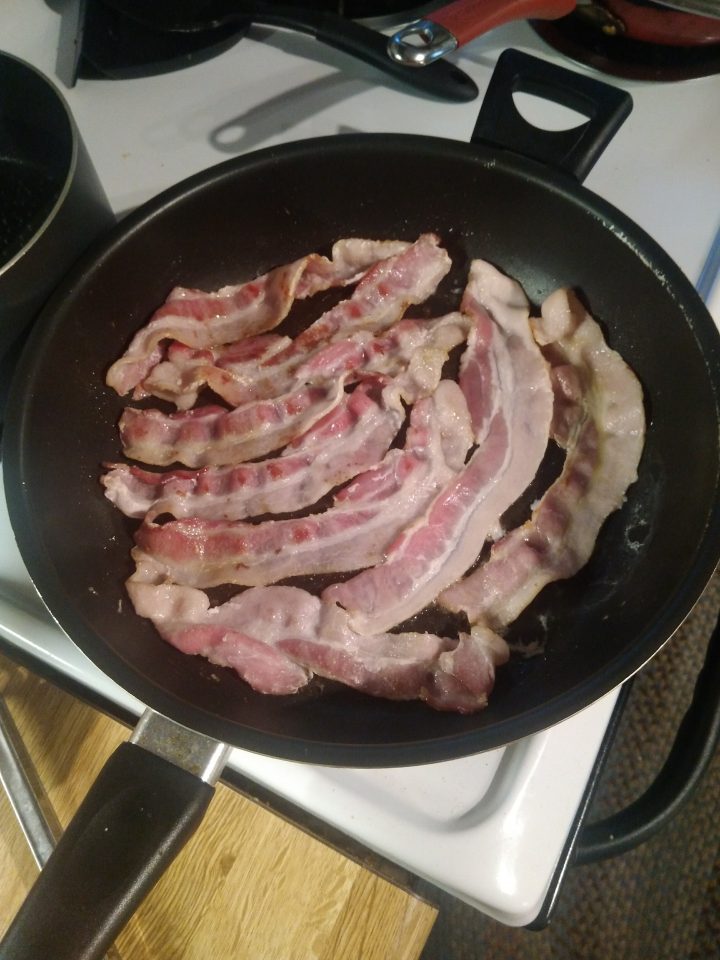 Was a bit worried. The bacon wasn't really letting off any grease yet, so they were sort of frying in nothing… Added a tiny bit of water though. Came out fine.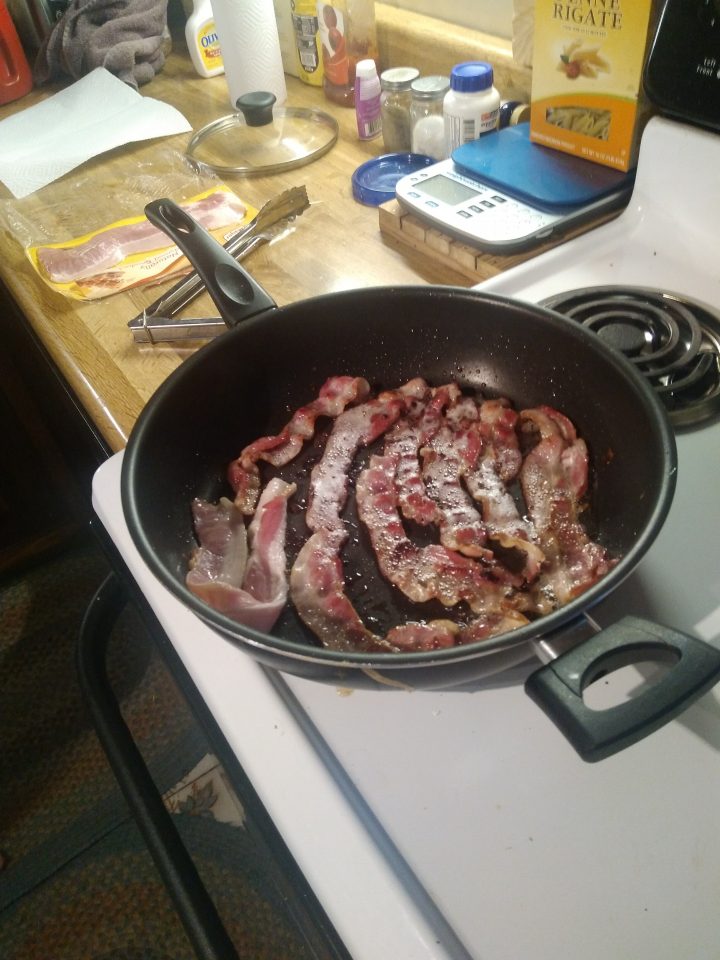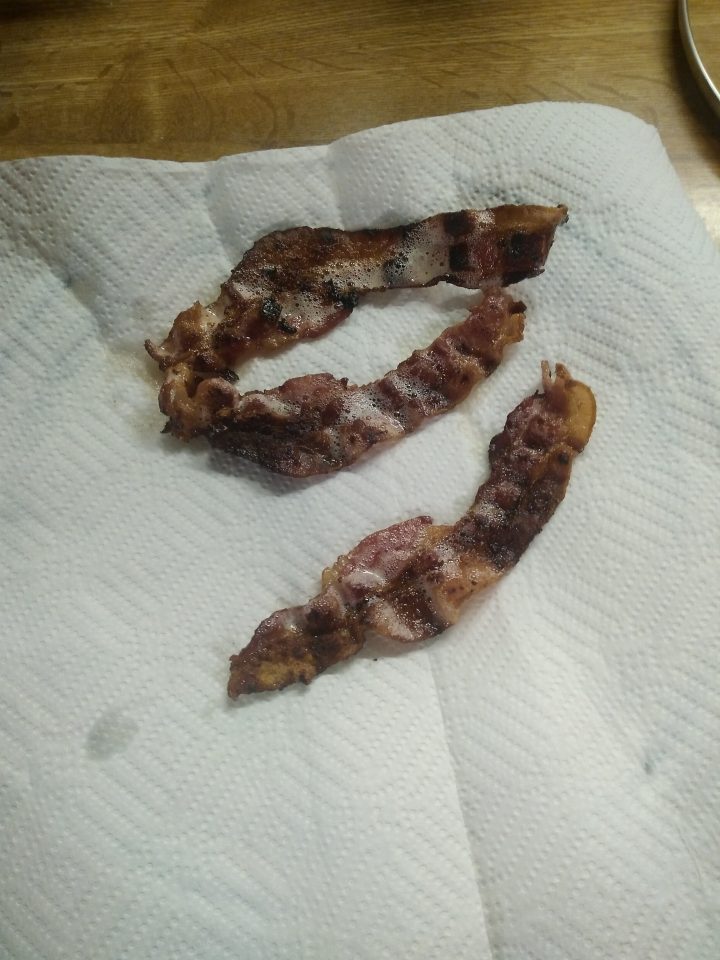 They were slightly overdone for my tastes, but that's fine since they were going to be crumbled up anyways.
Future ones got better. This was my first time cooking bacon, so was a huge learning experience. 🙂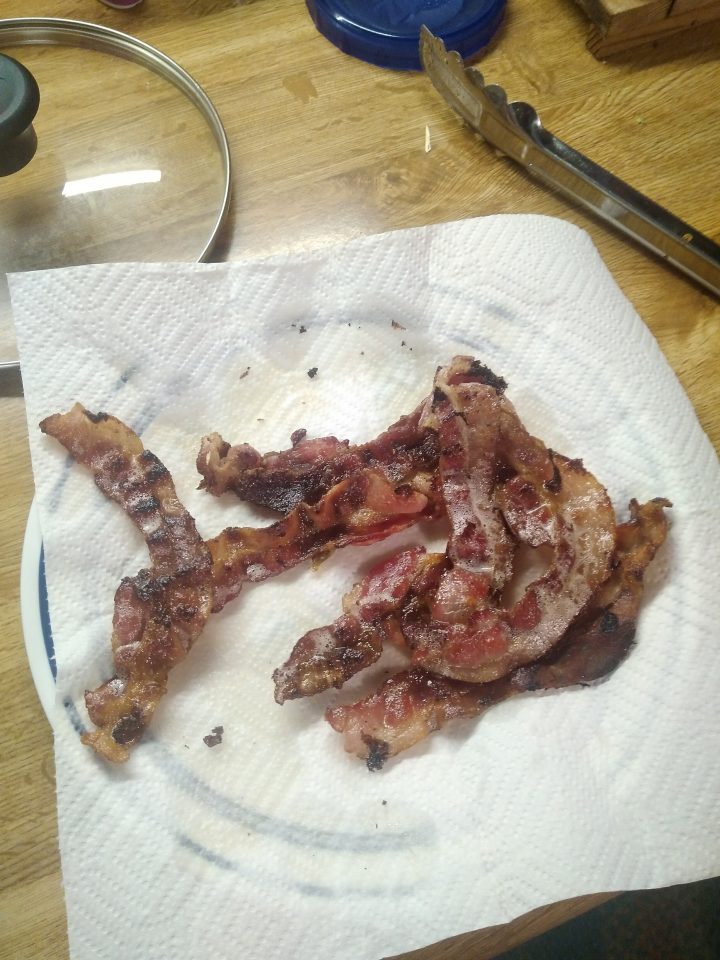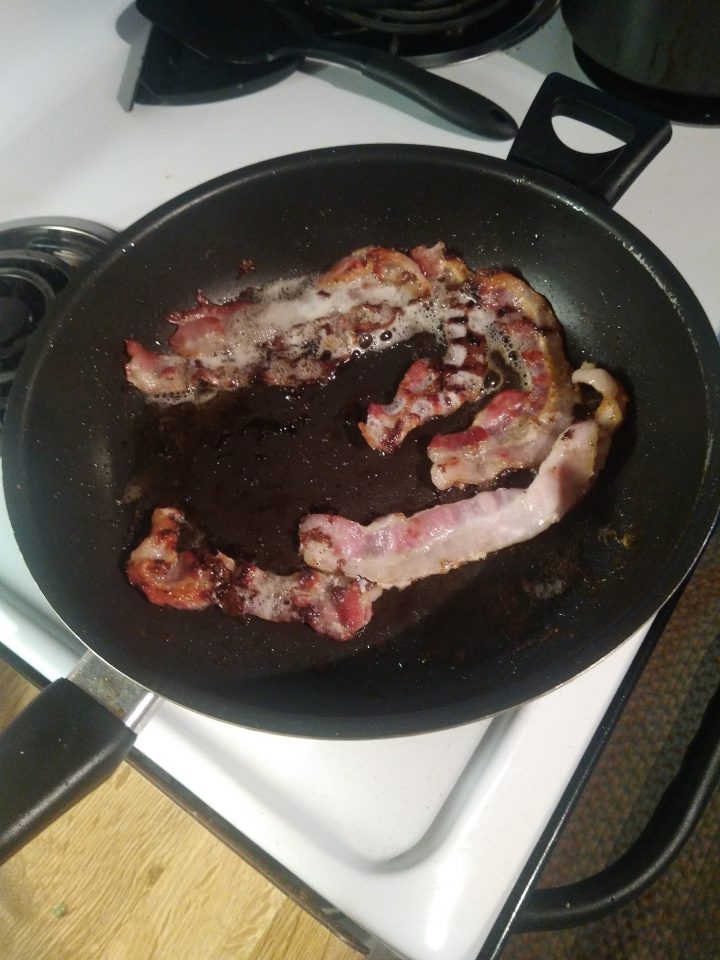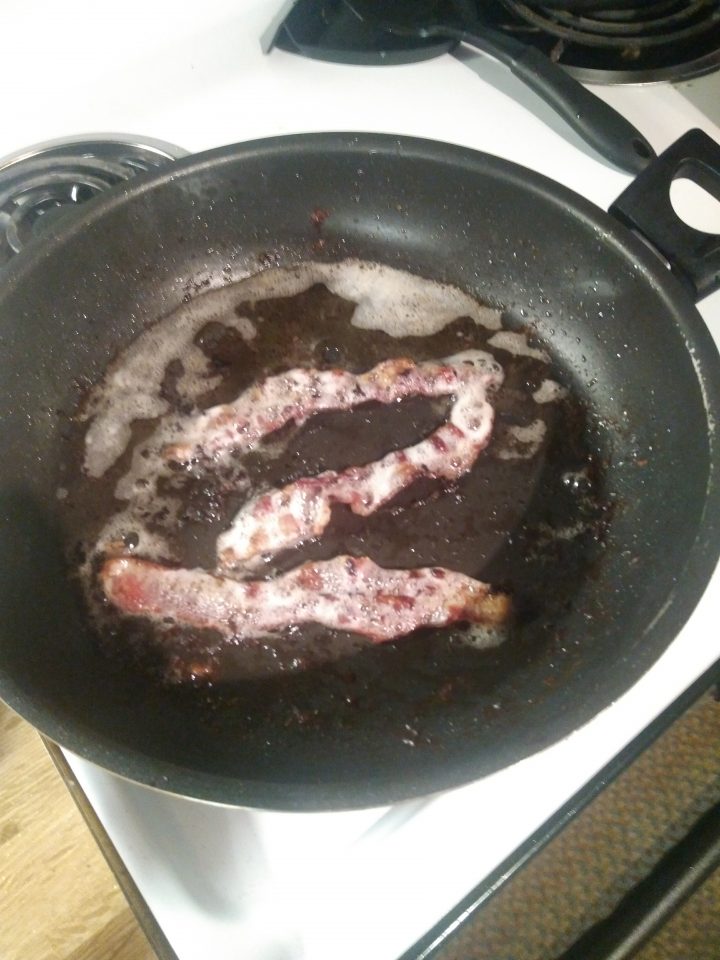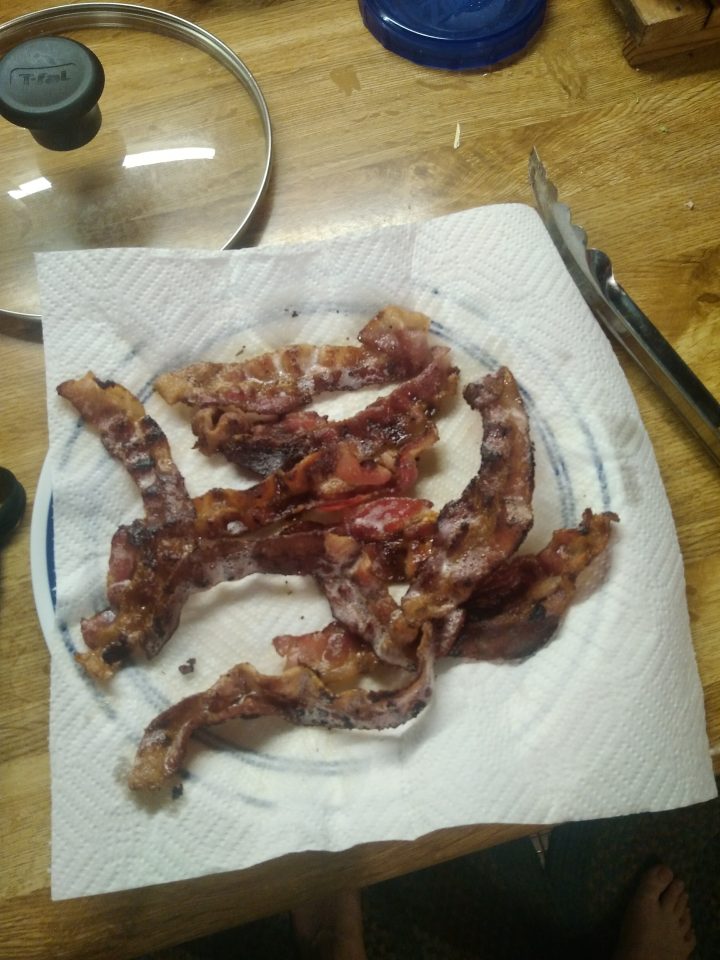 Okay back to the breads! 😀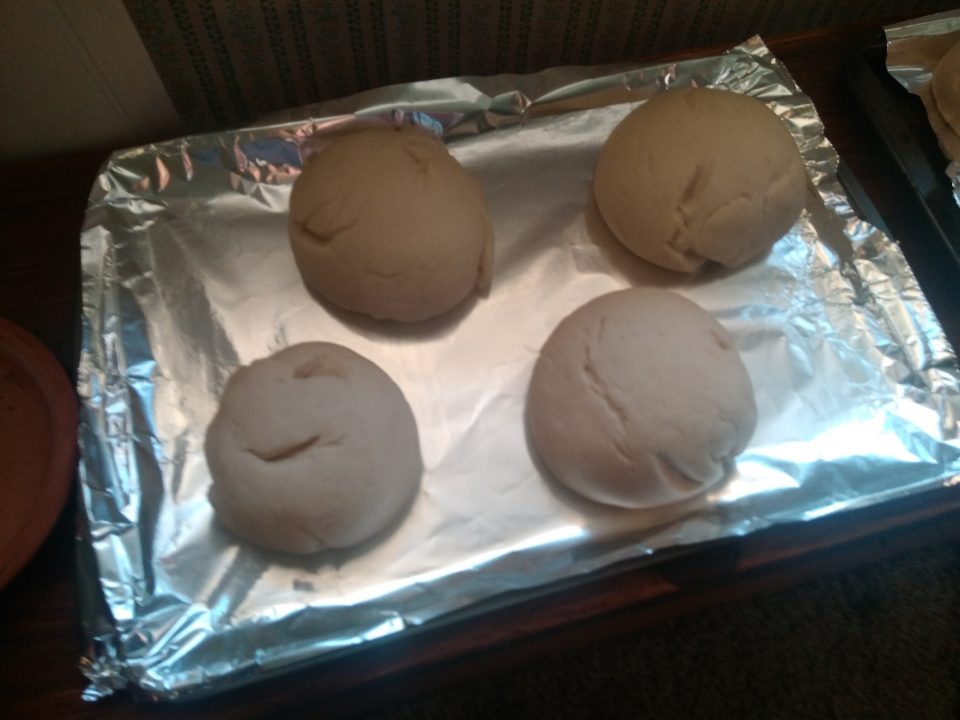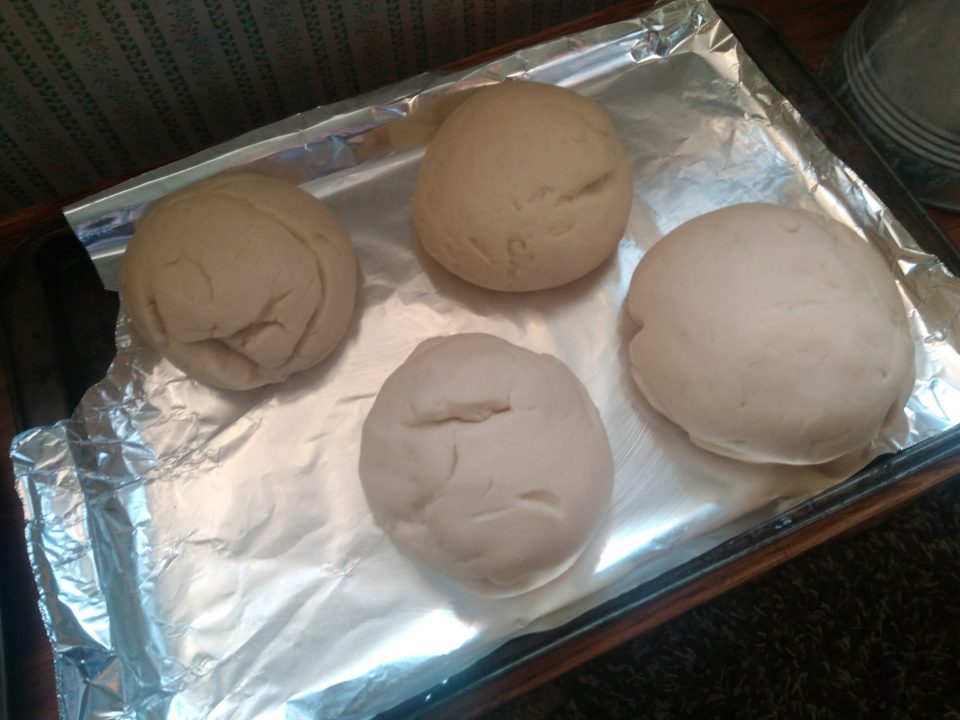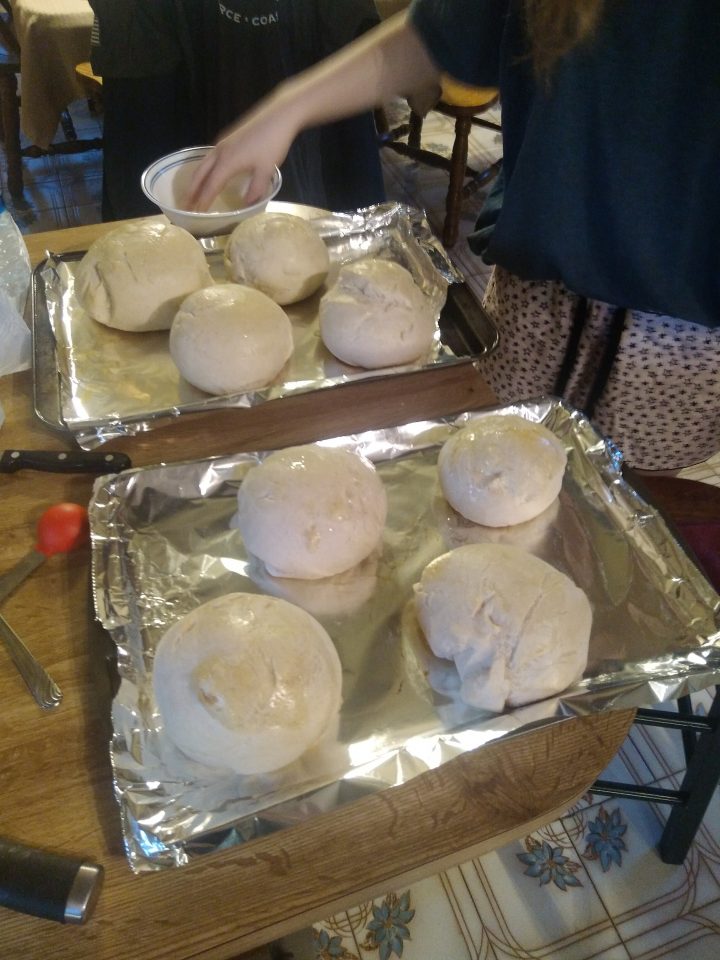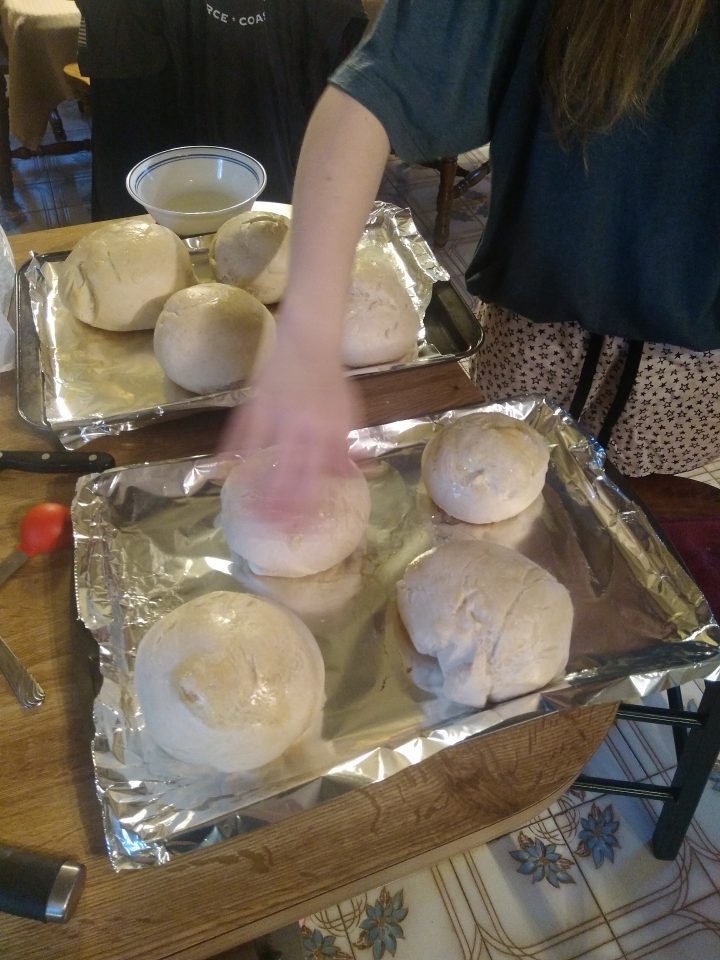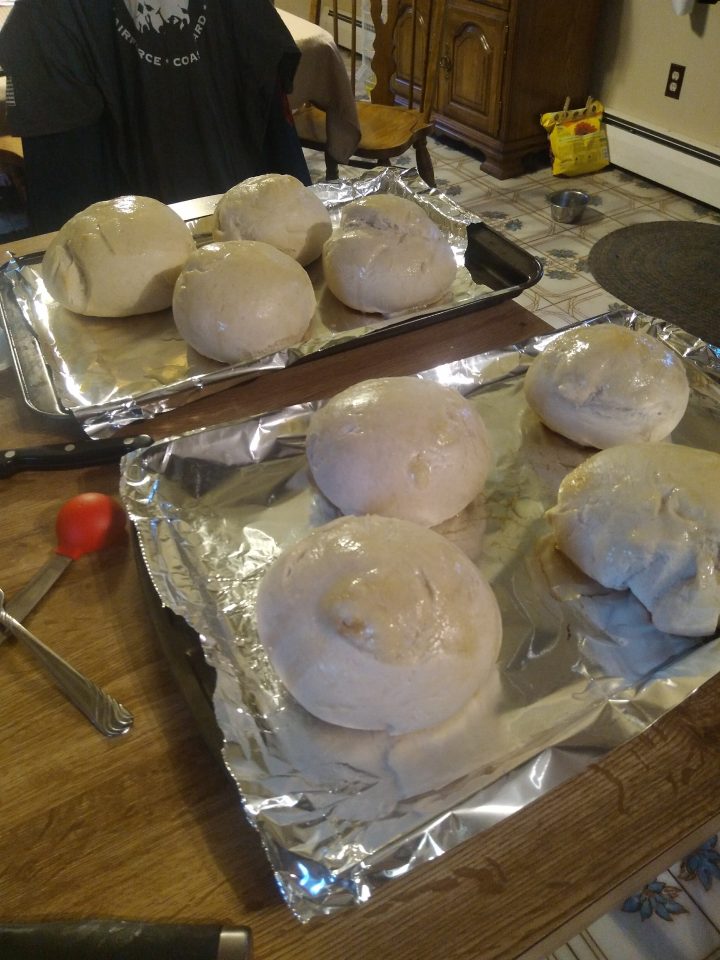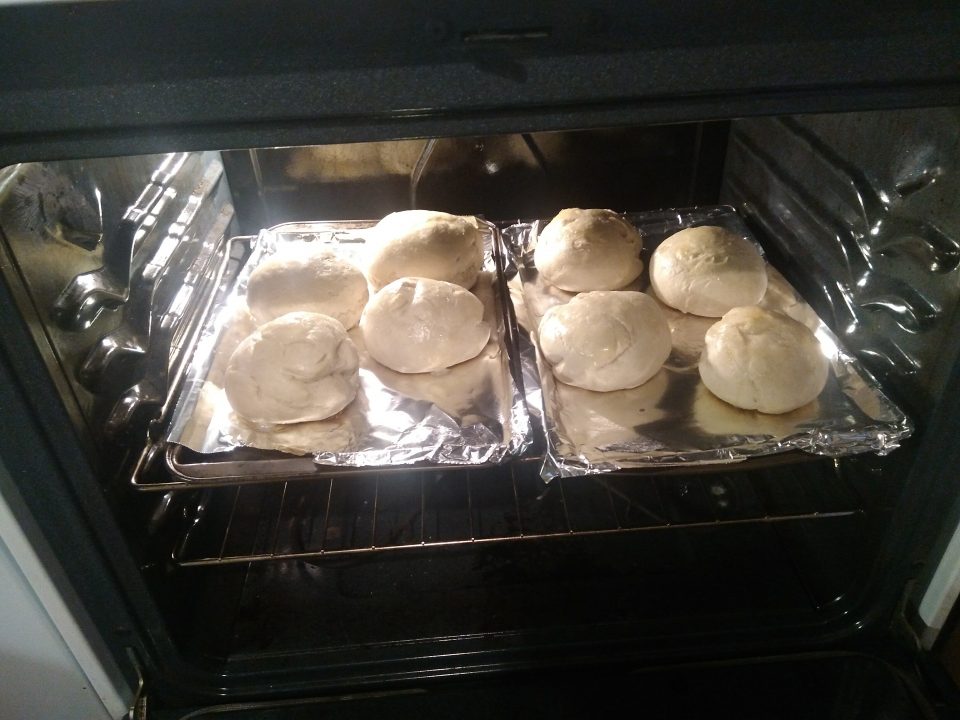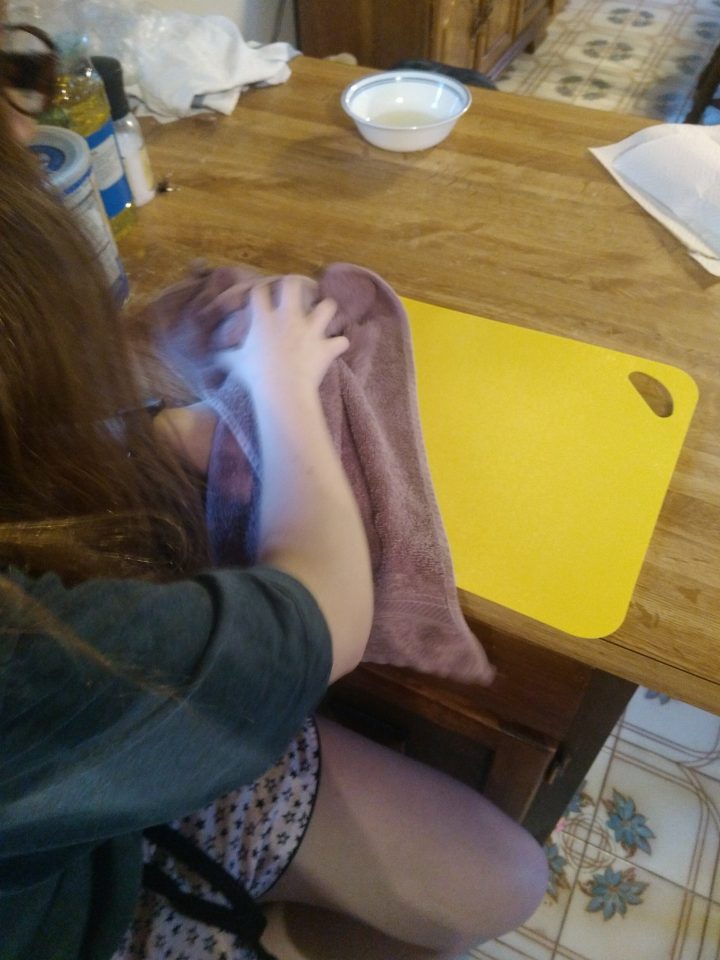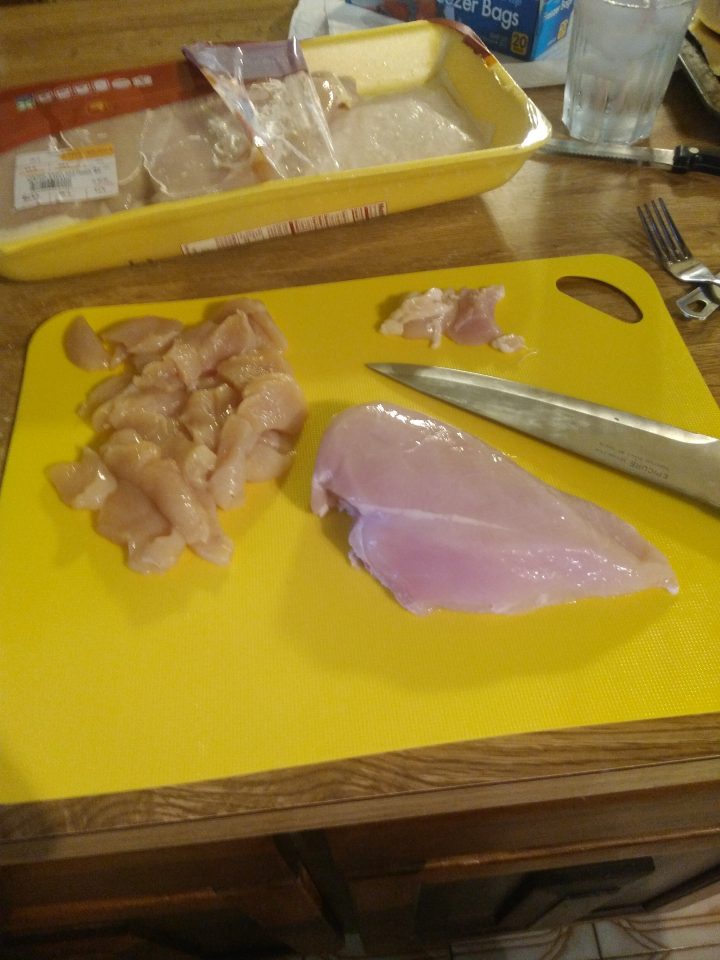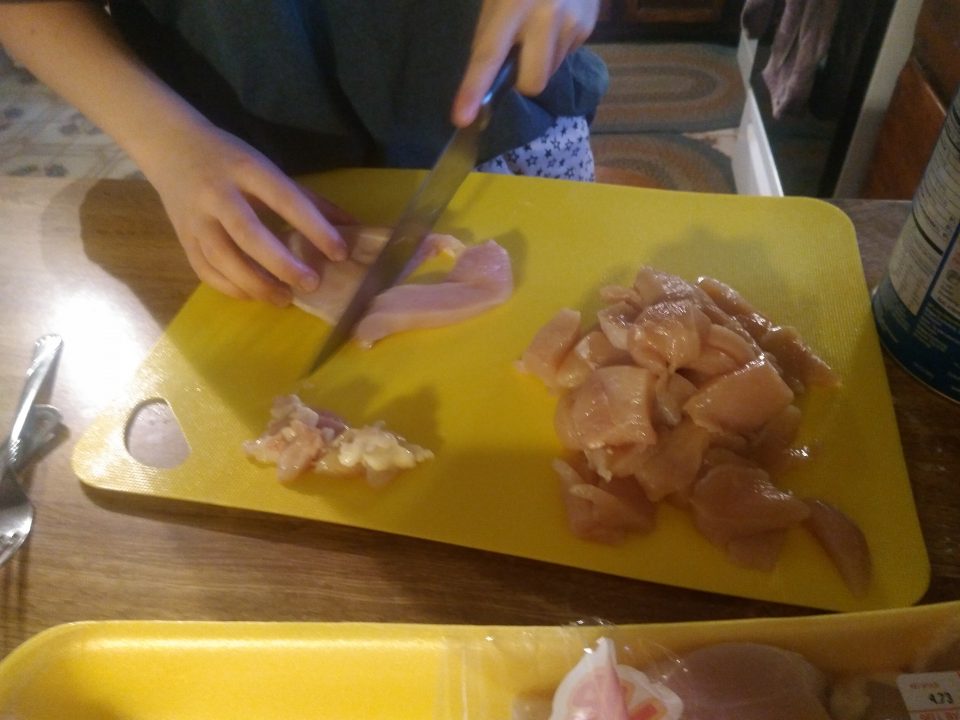 This is her first time cutting chicken, so I had to show her the ropes 🙂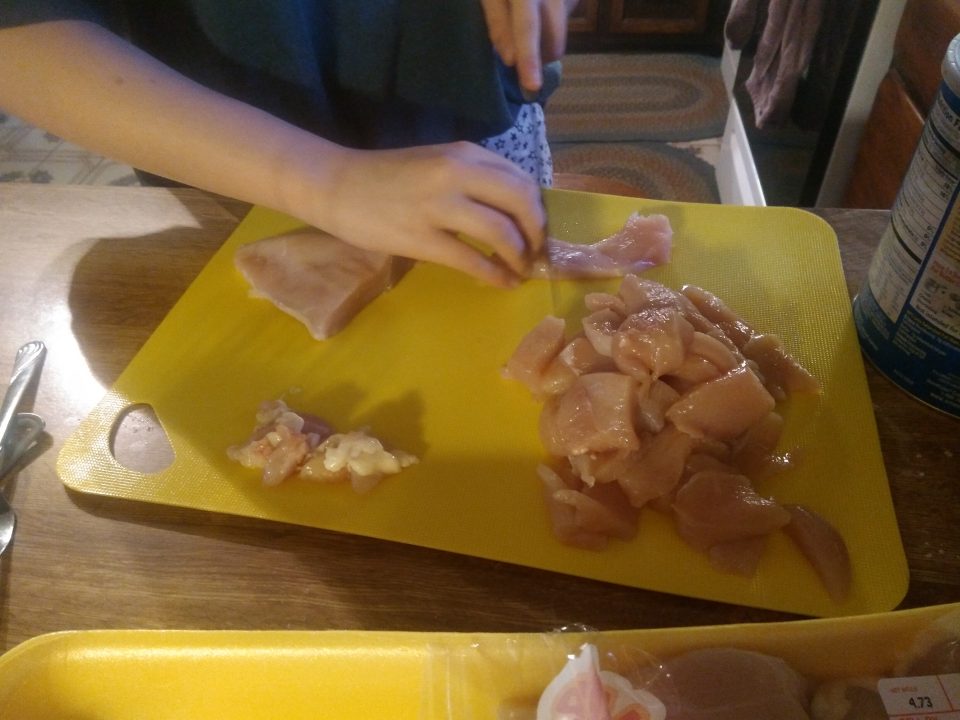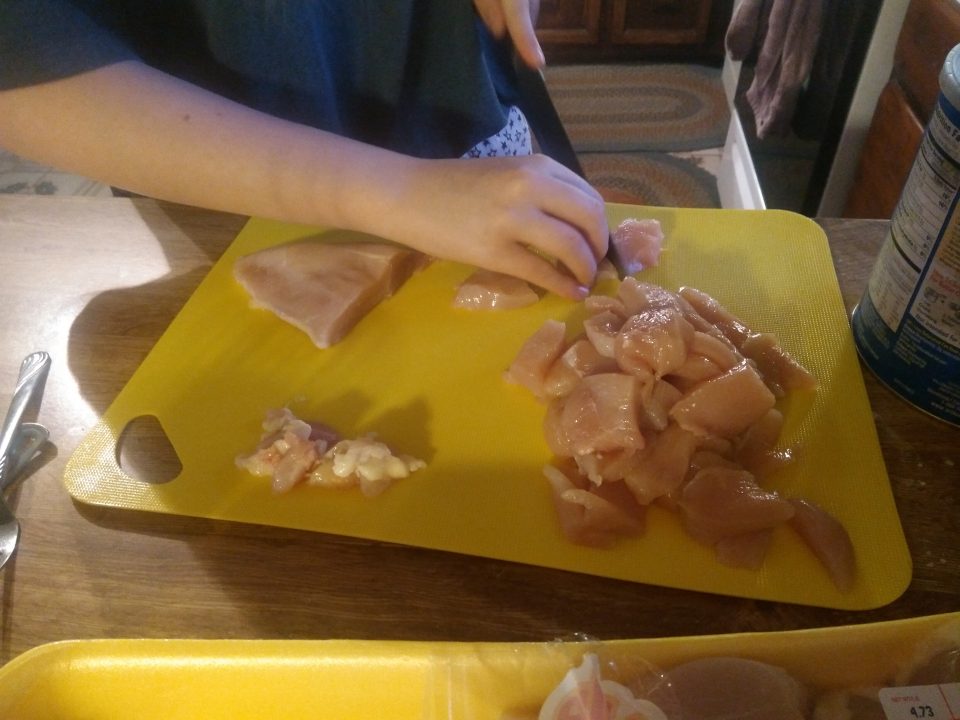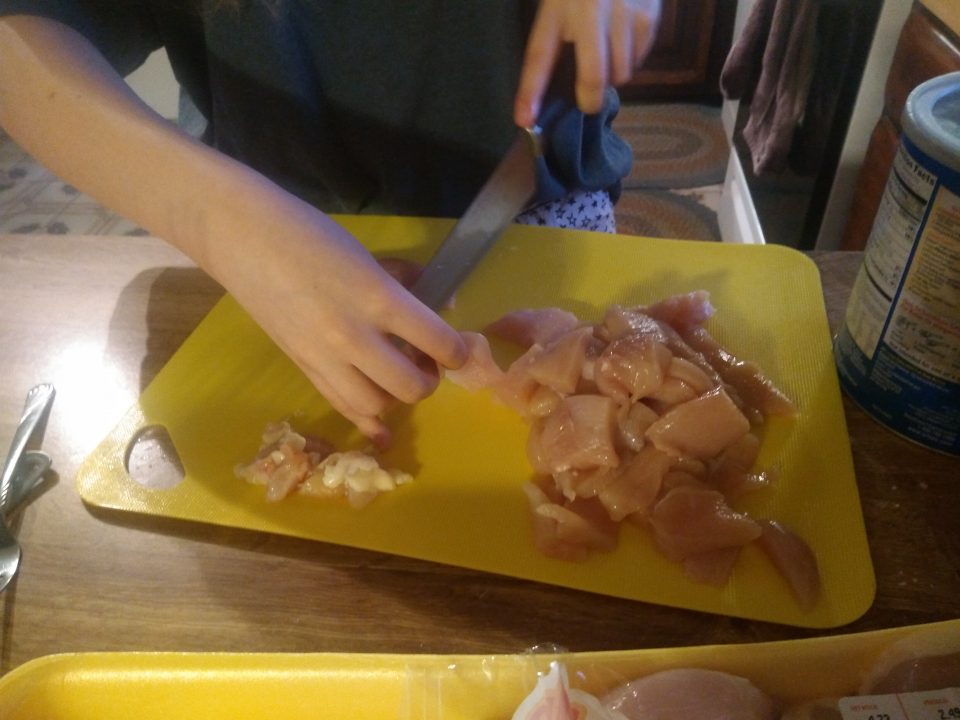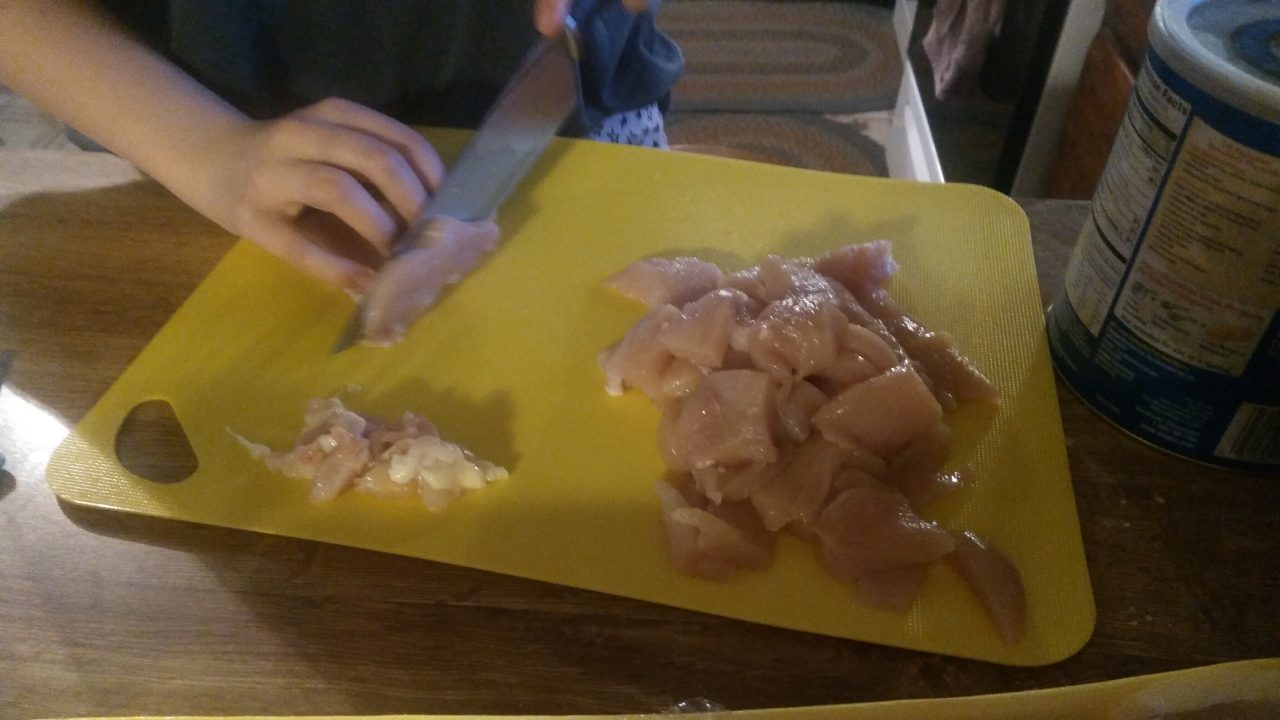 Make sure to keep your fingertips facing inward when cutting.
This helps keep you safe from cutting your fingers off and having a bad day, not to mention ruining your chicken since now it's covered in blood.
Cutting the chicken took a while, and the bread didn't, so back to bread!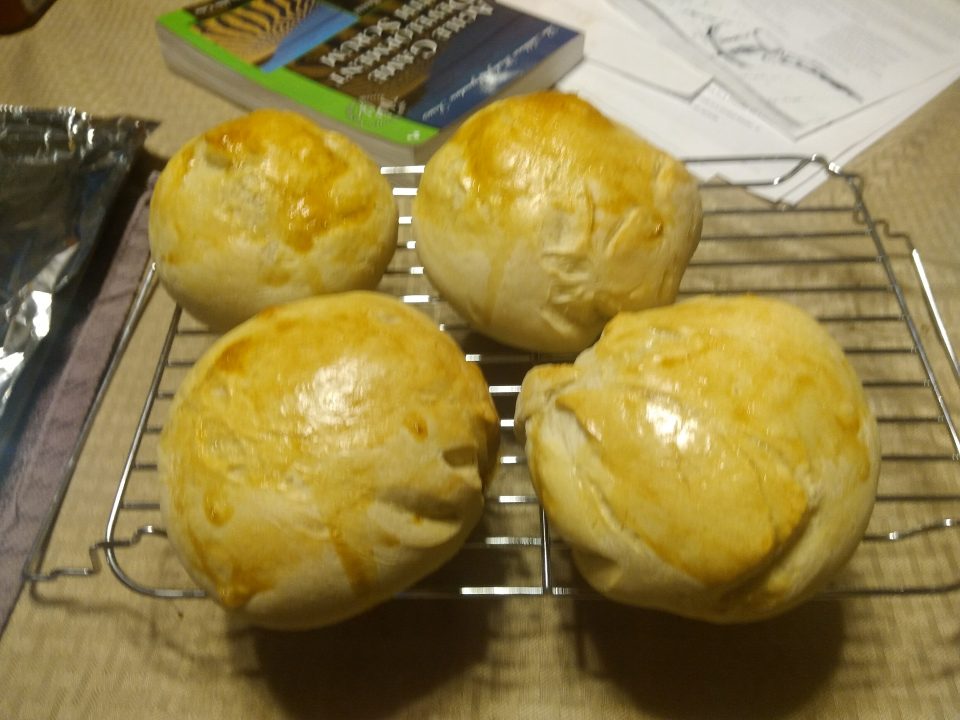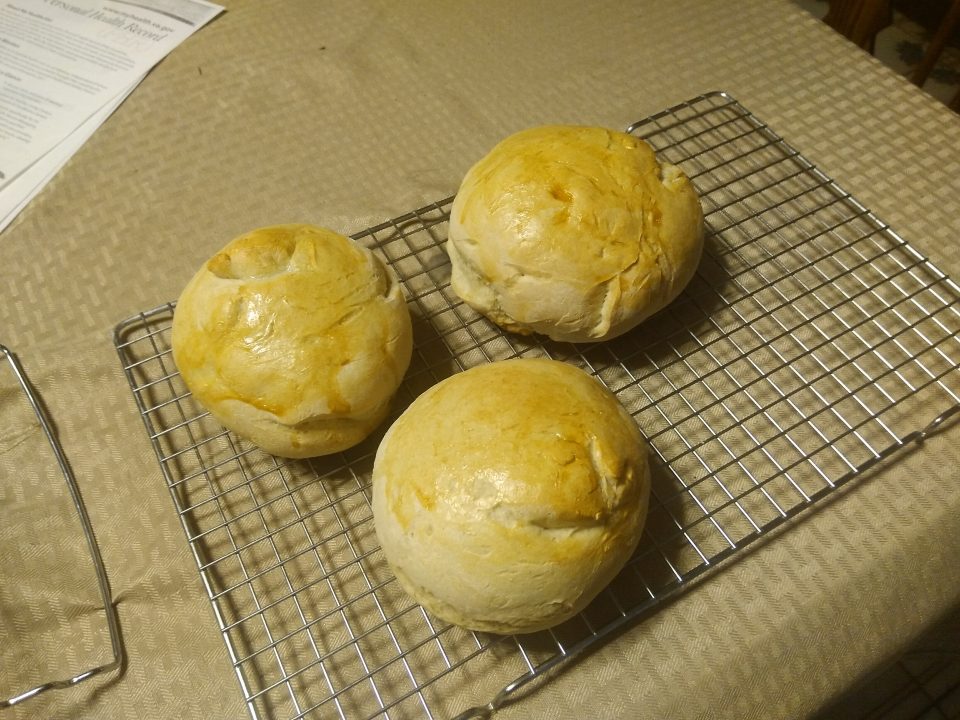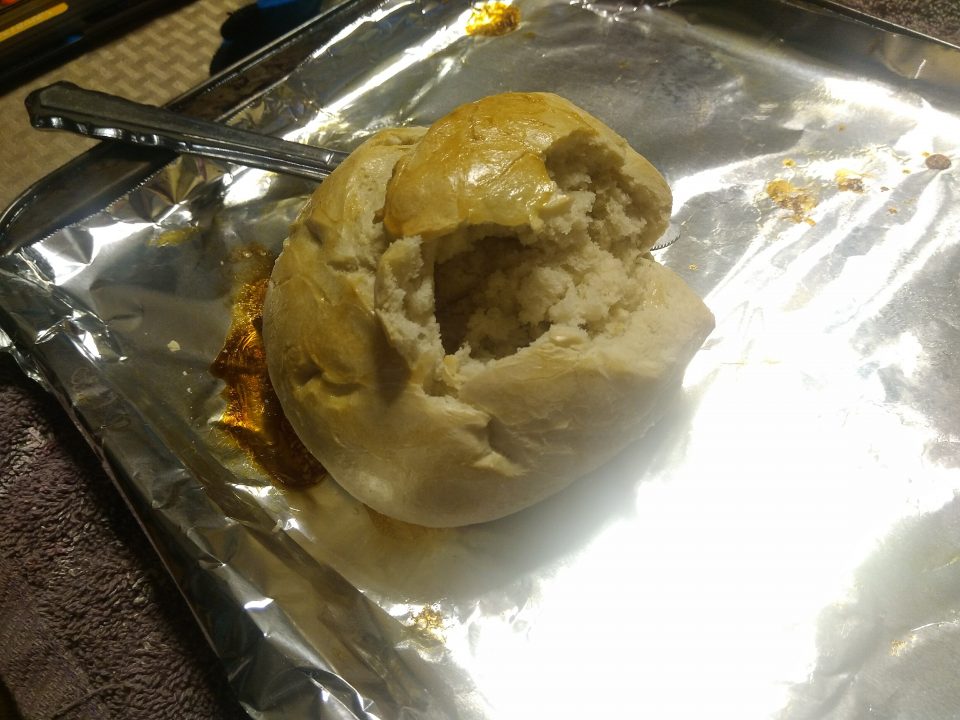 It tasted like real bread!
Very exciting.
We were thrilled that we didn't screw this up along the way.
It would have been fine in the meal. If they got screwed up, we could just skip them,
but it was a relief to know that we didn't screw it up, and they even came out pretty good 😀
Back to the bacon though, because now we need to work on the rest of the dish. The bread can cool.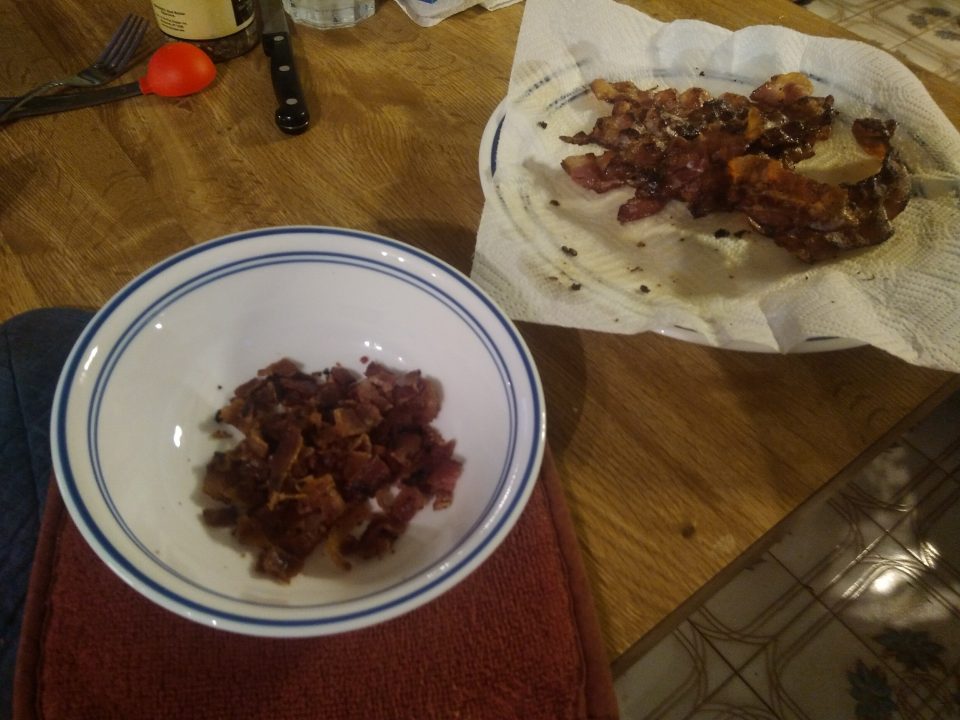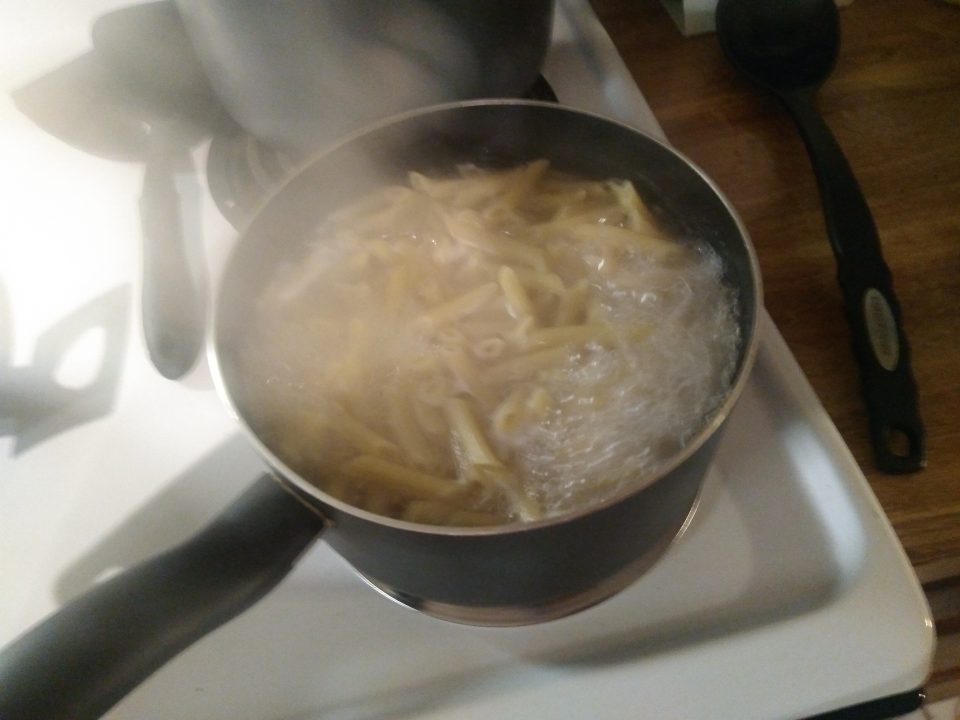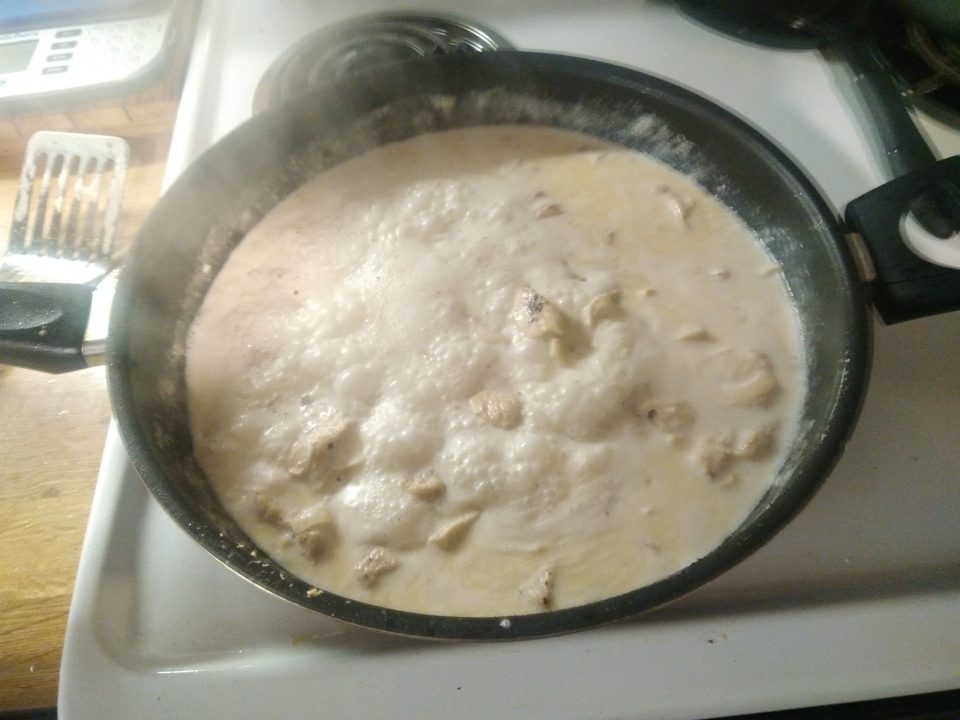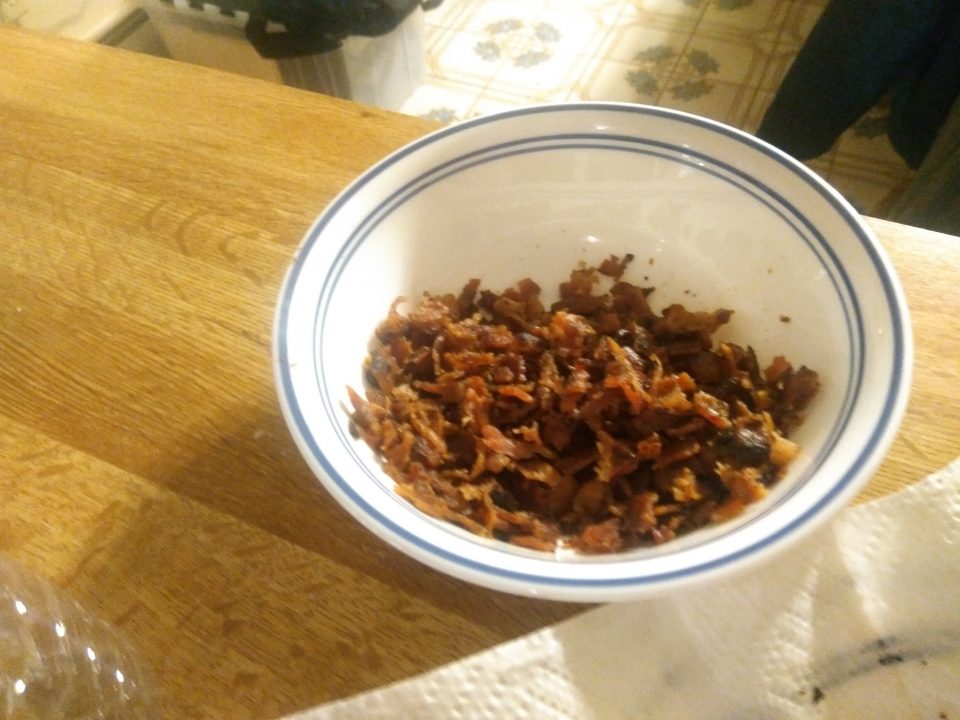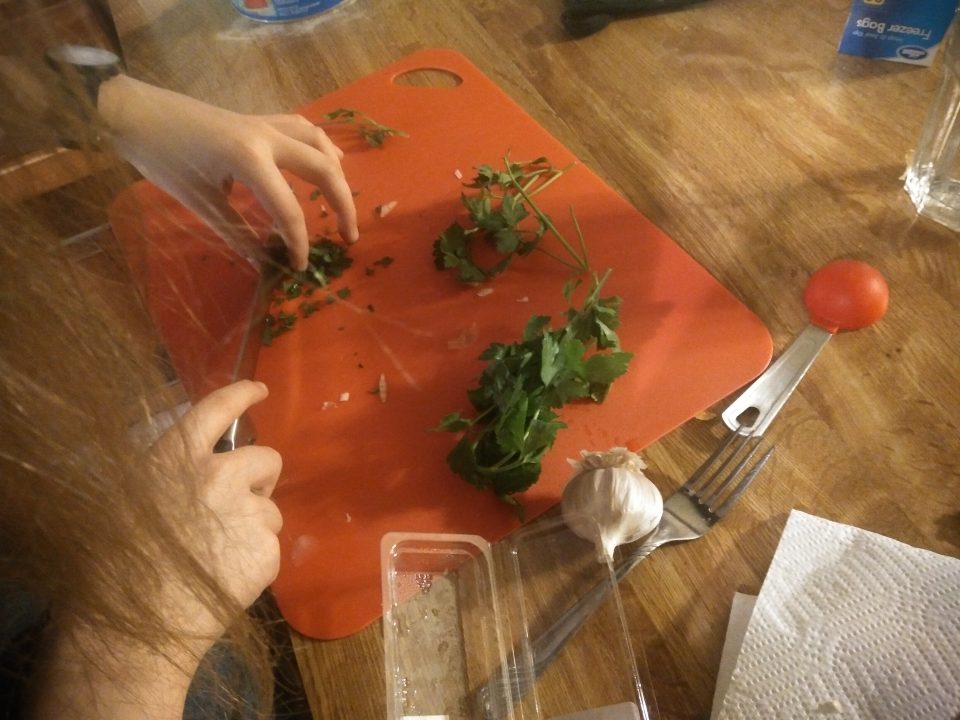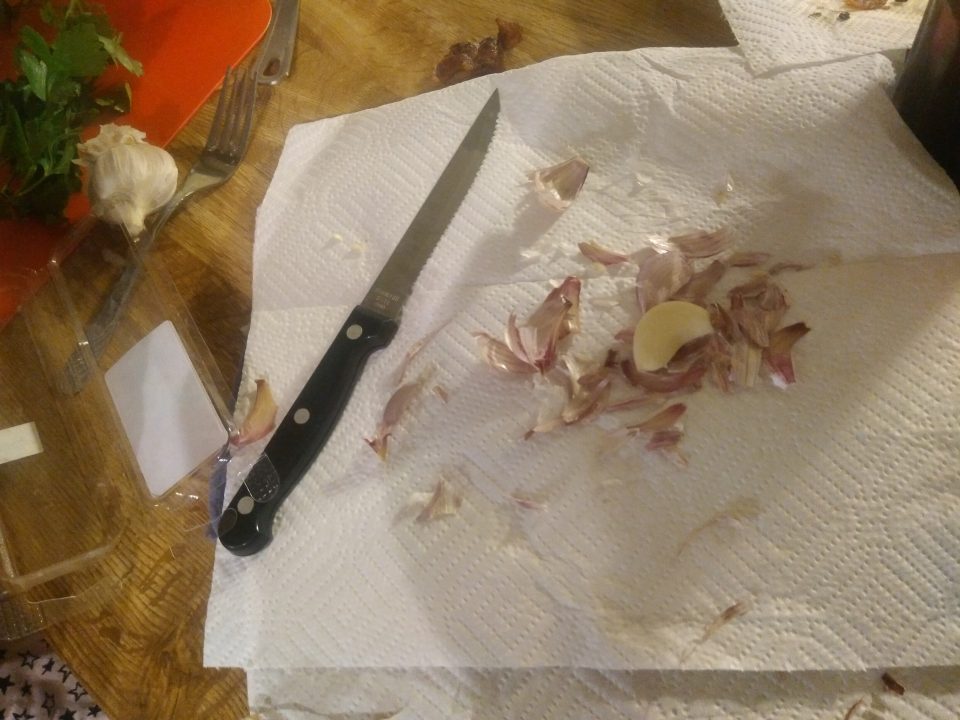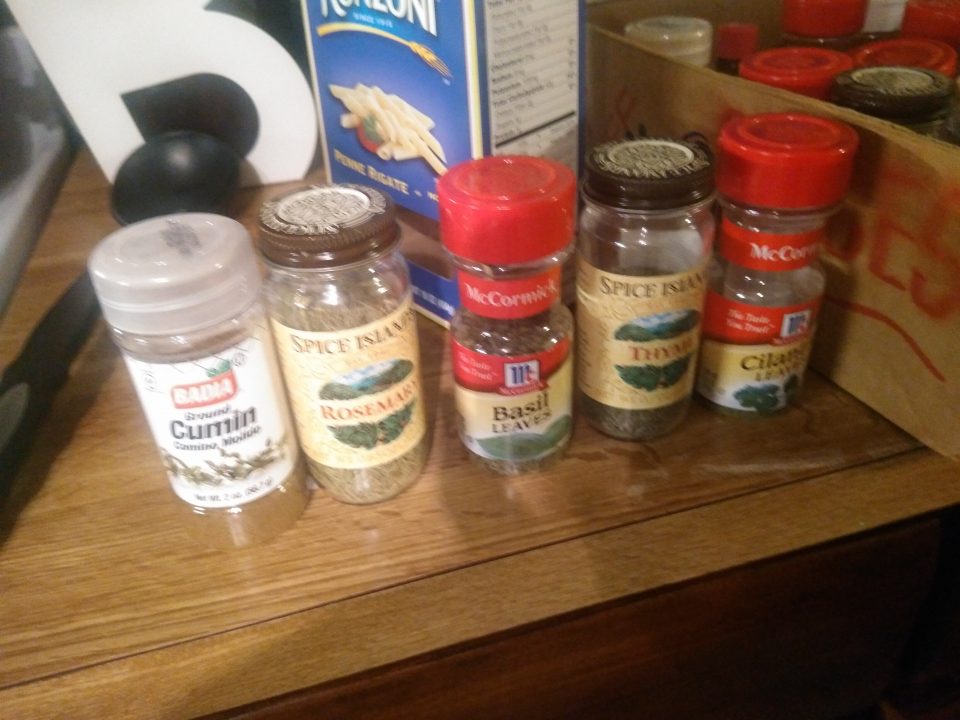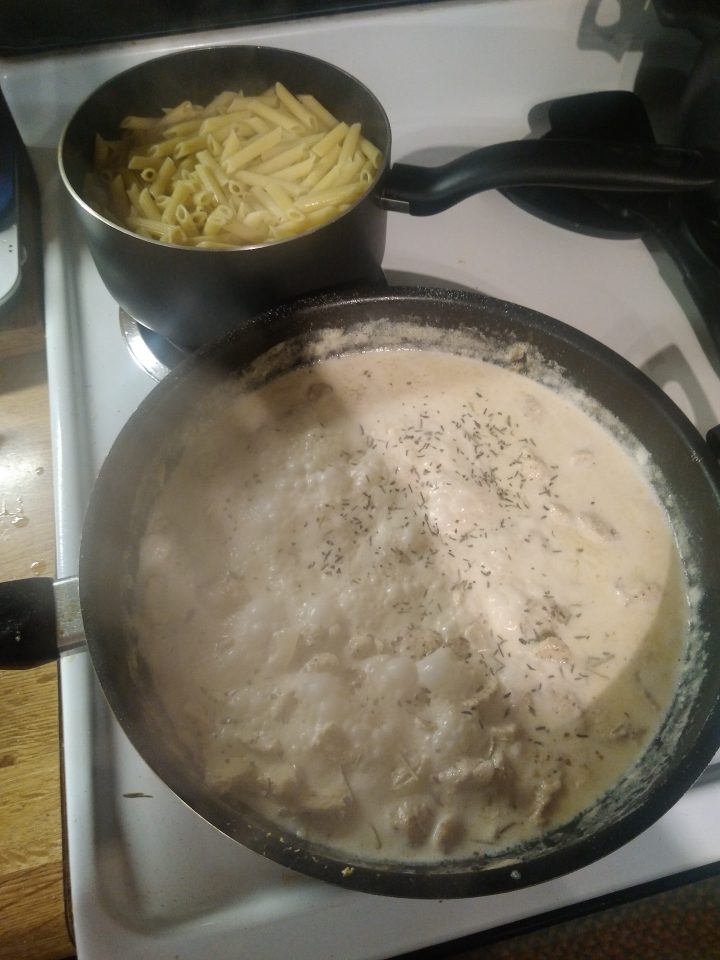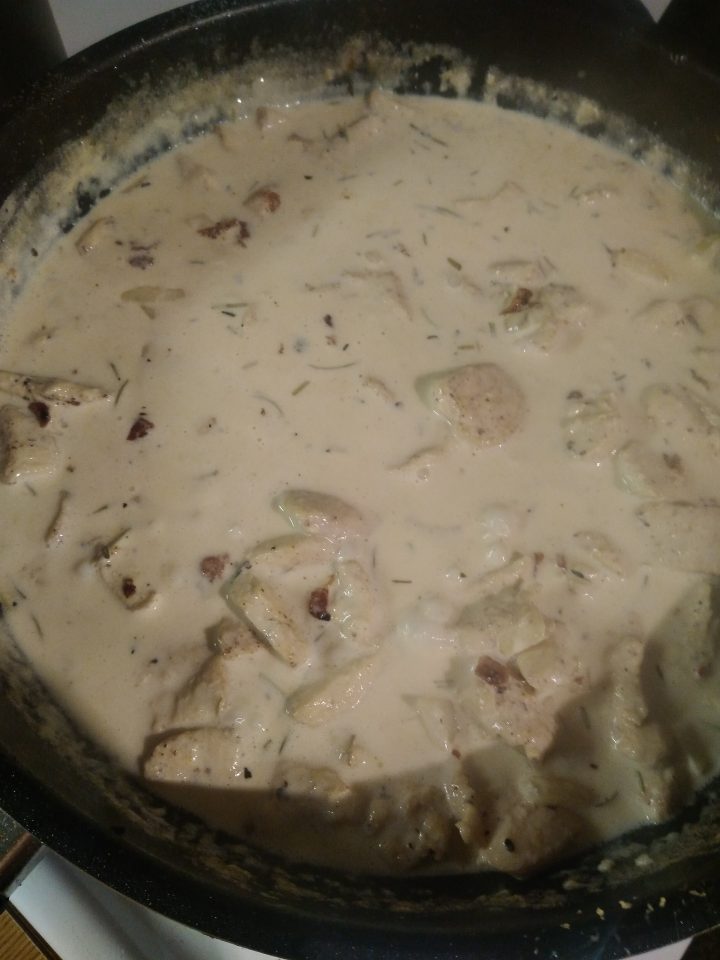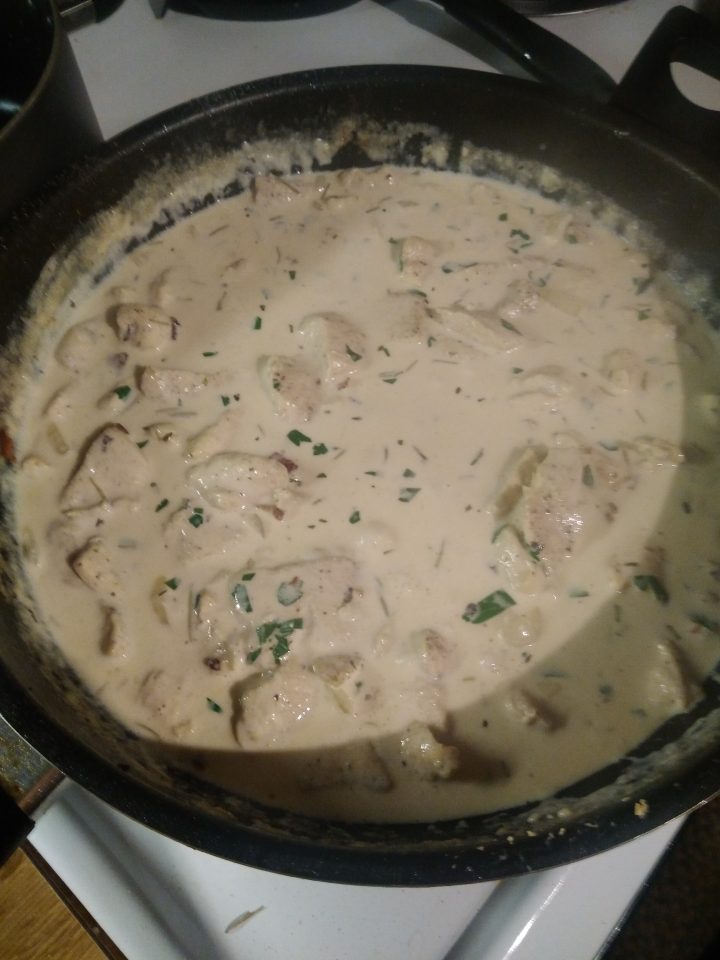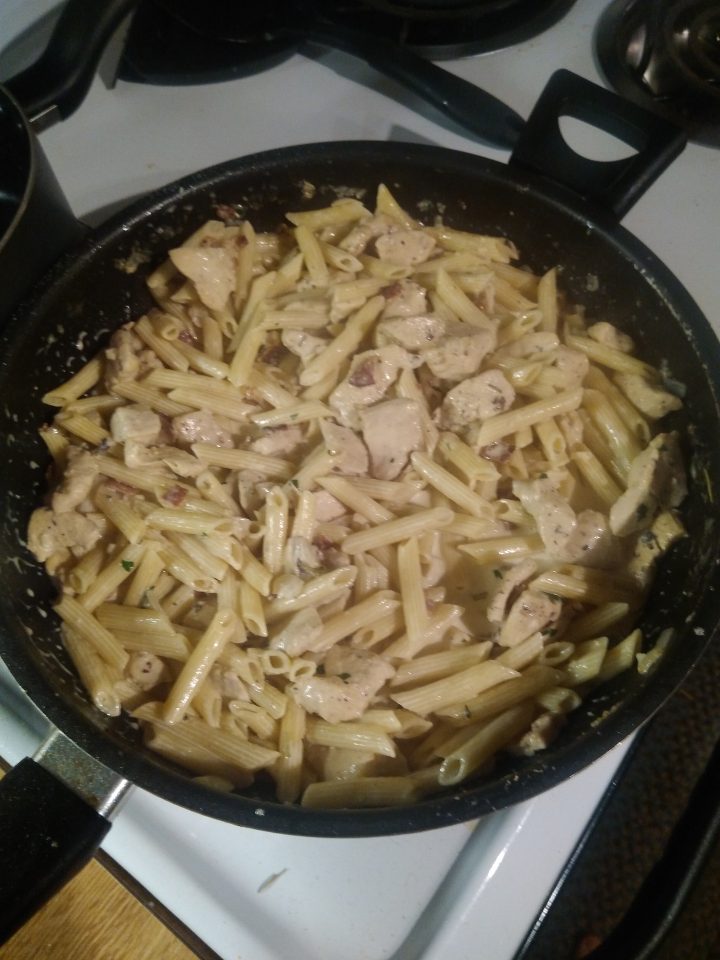 We were going to use the entire box, but it seemed that that would be too much, and it definitely would have been after evaluation at the end.
There was probably about 1/4th of the box left after. Maybe a 3rd.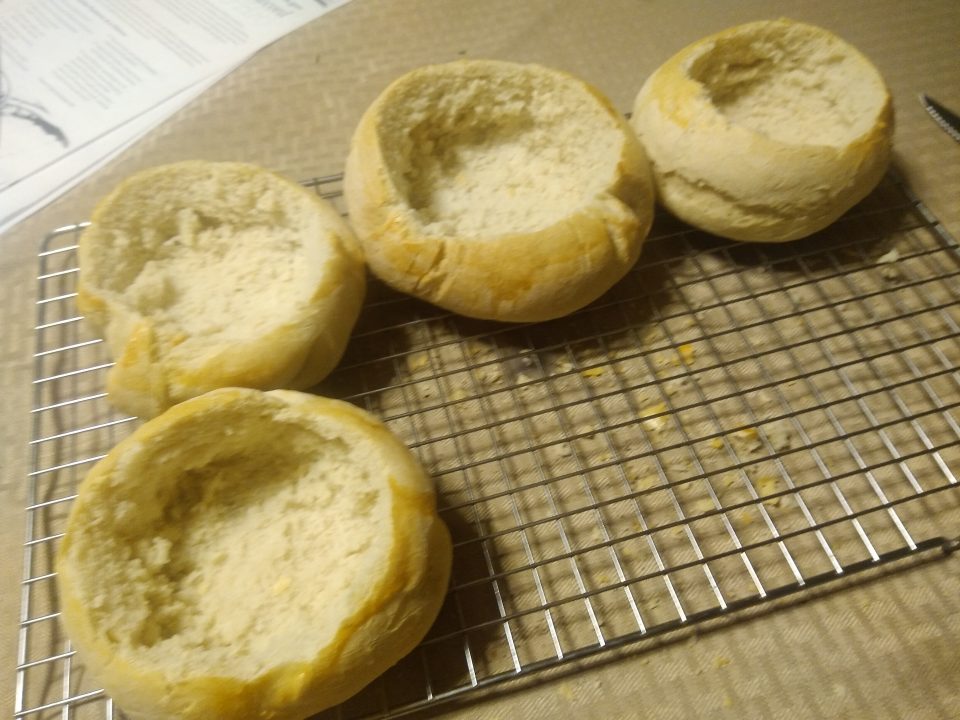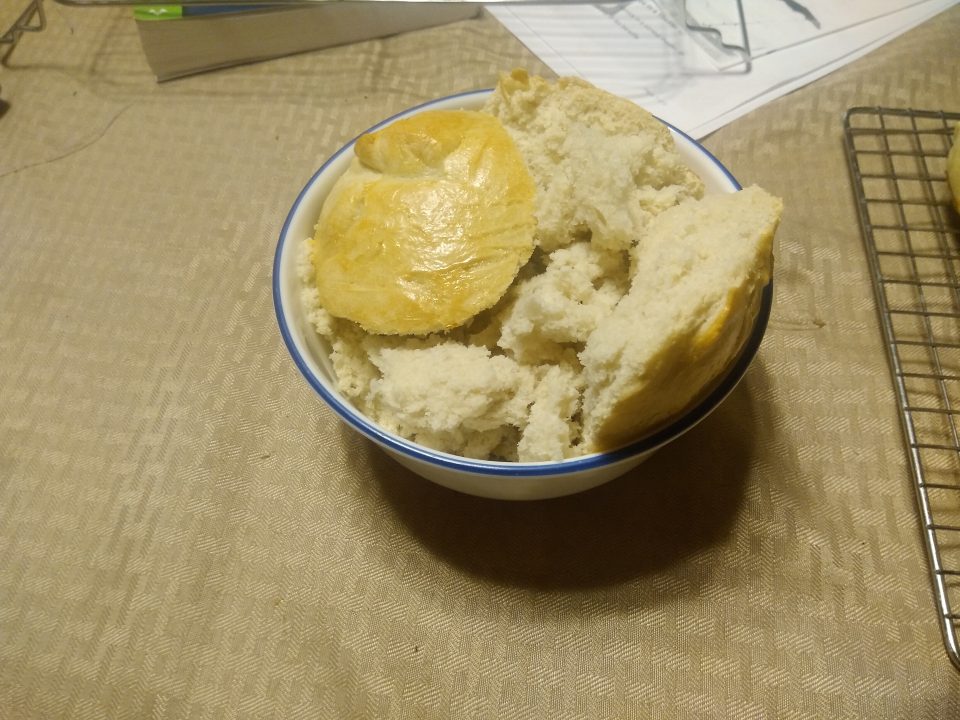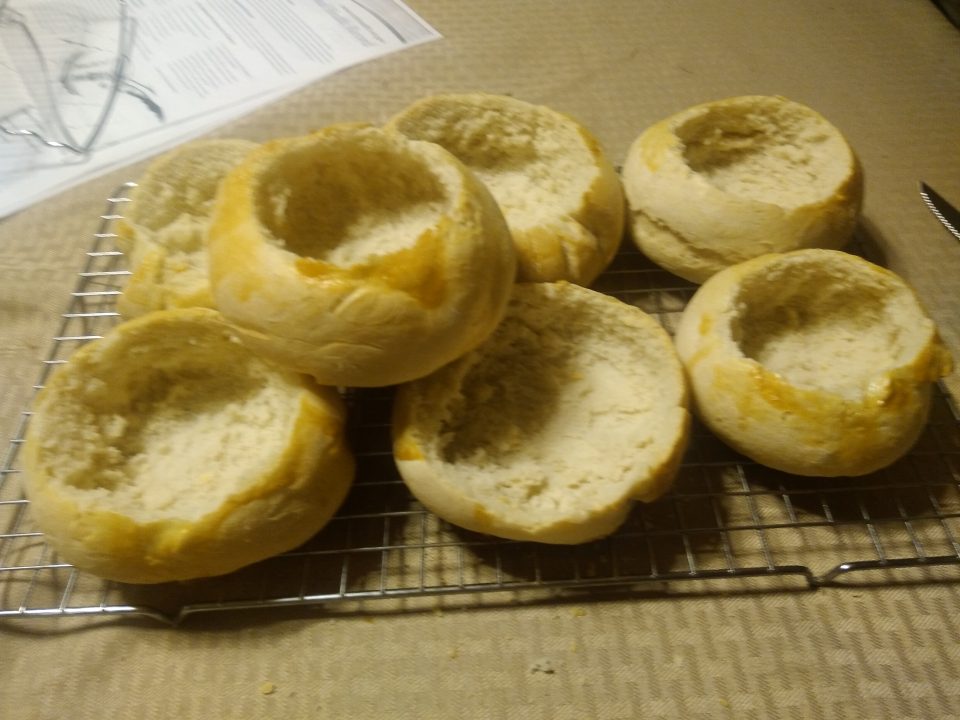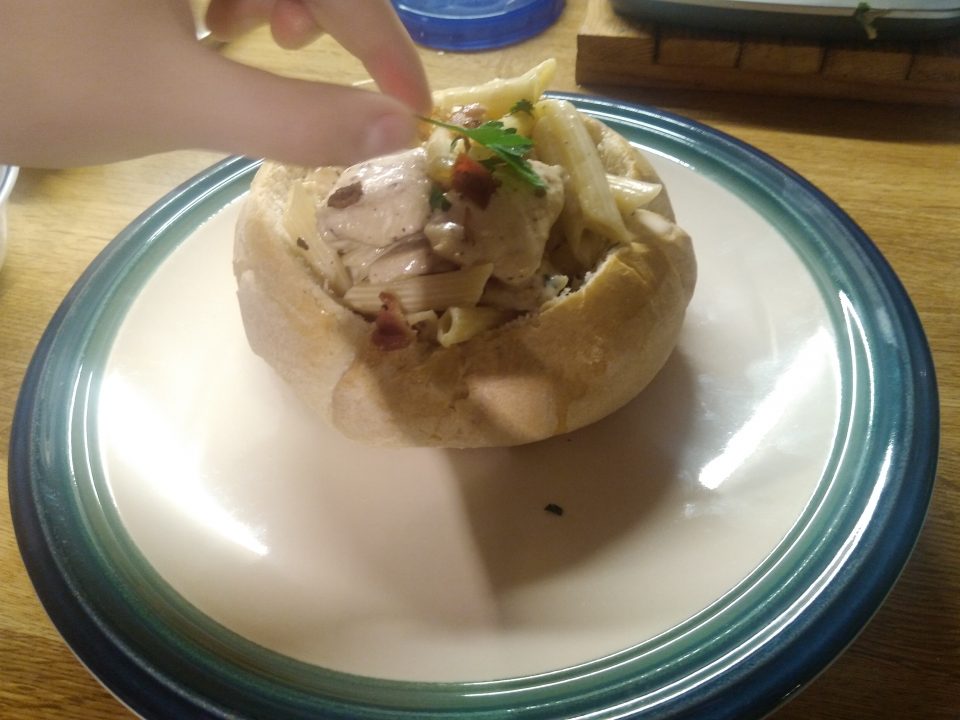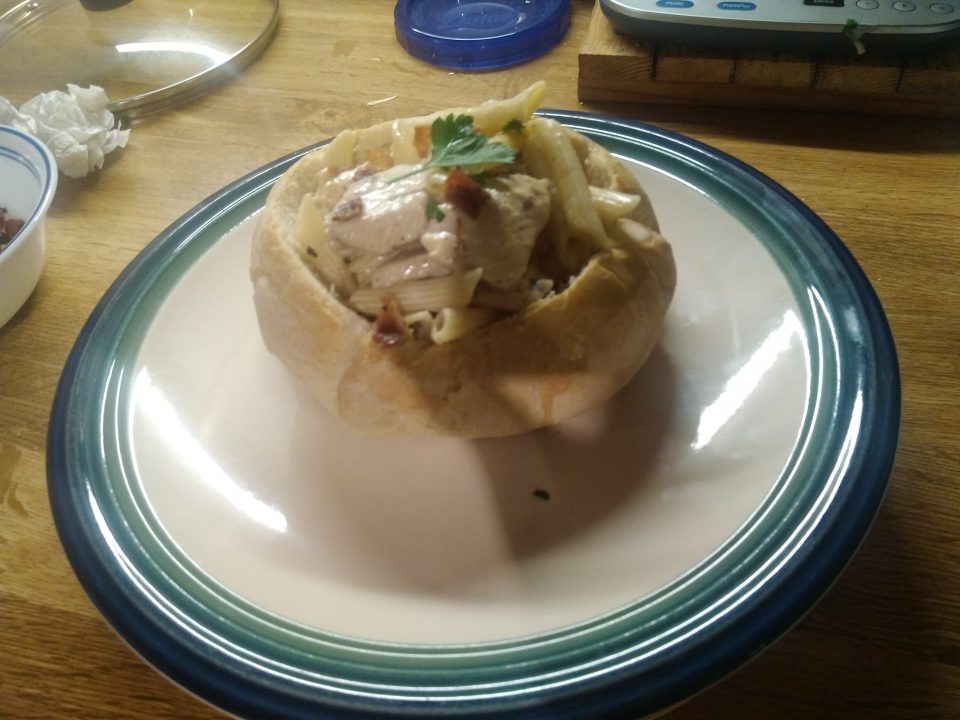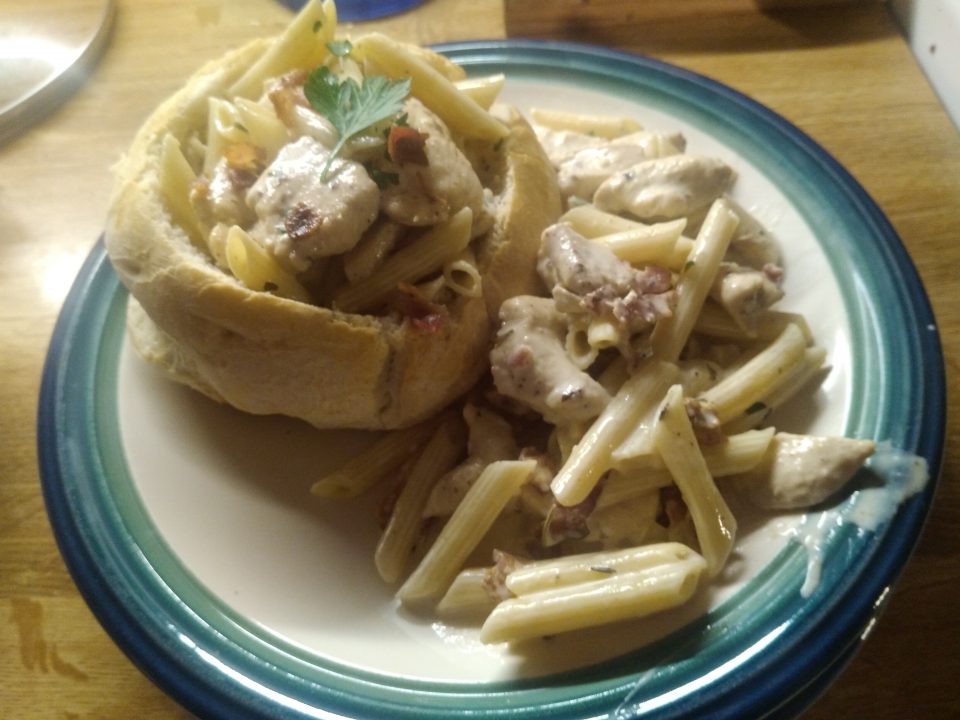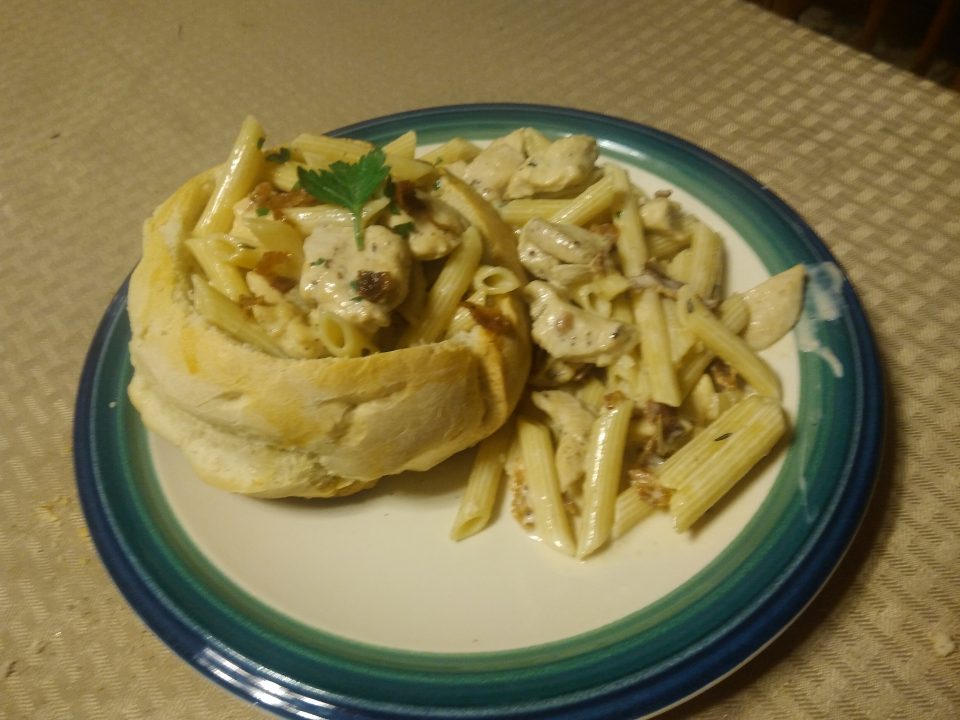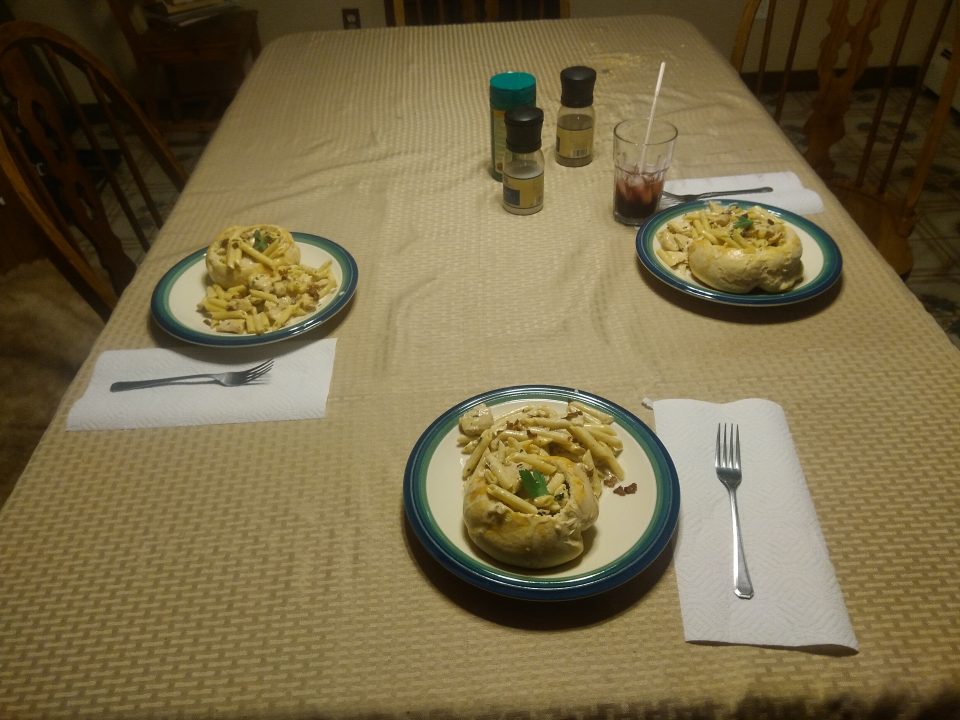 So that's about it for this meal. It was delicious, and everyone enjoyed it!
It did take forever to make though. We started working around 3pm and ended around 8pm.
It was well worth it though. We had tons of fun making it, and the result was amazing!
Bonus – Dessert!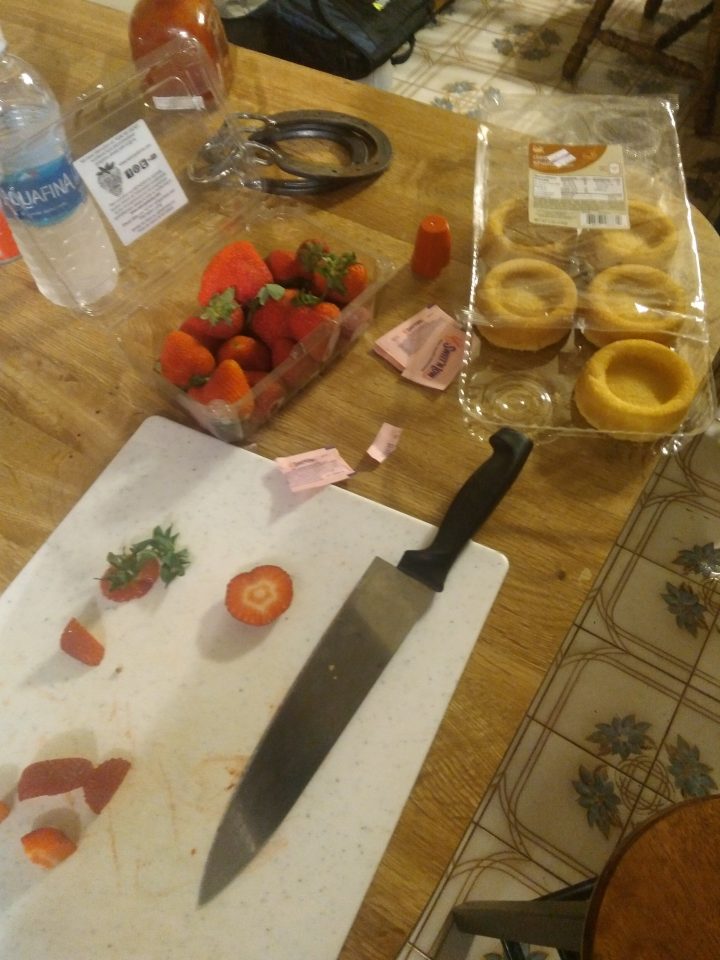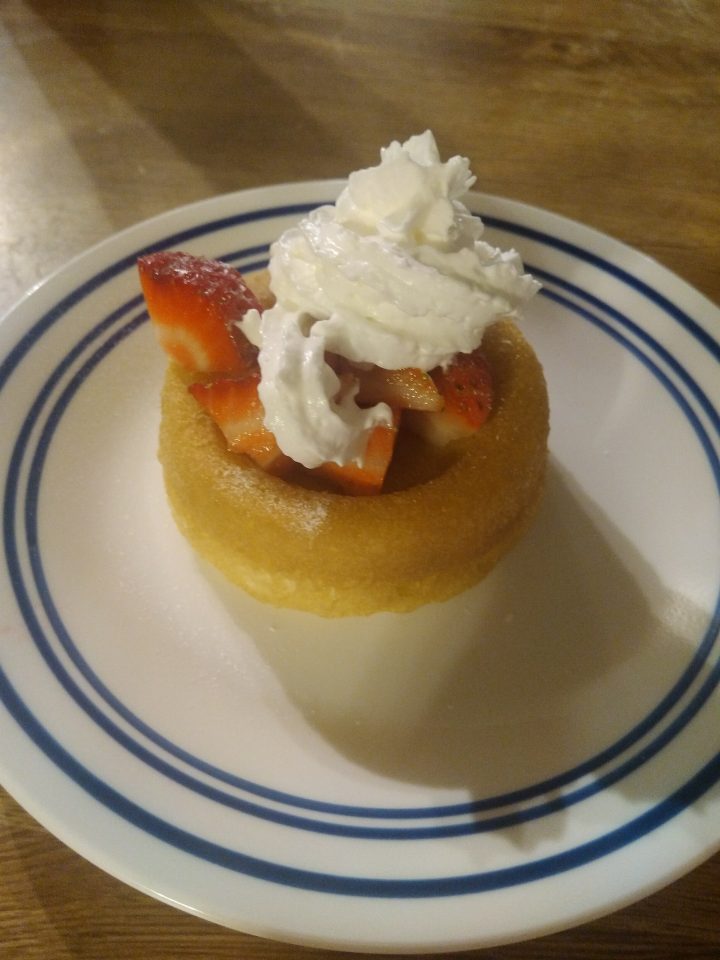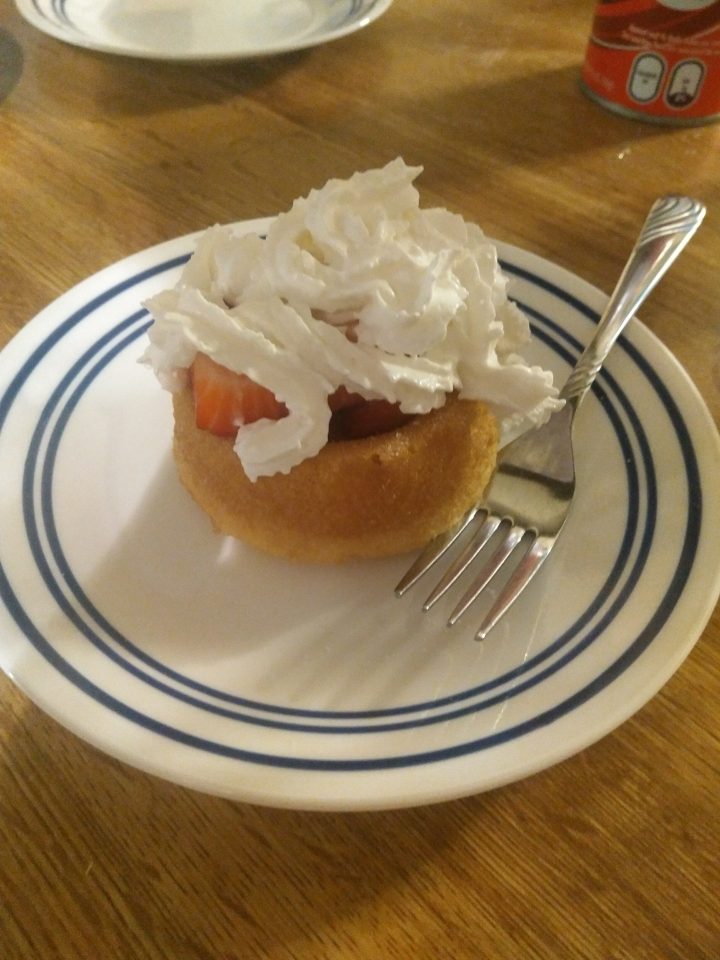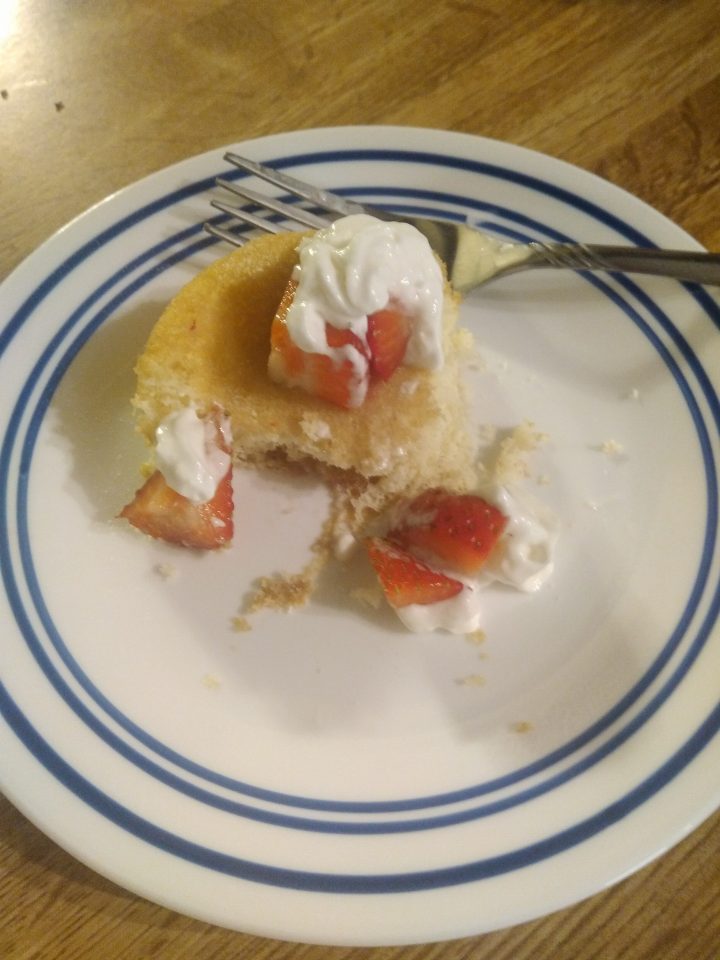 Bonus – Soup Tomorrow!